We Went There: Dengue Fever and Tinariwen at the Cedar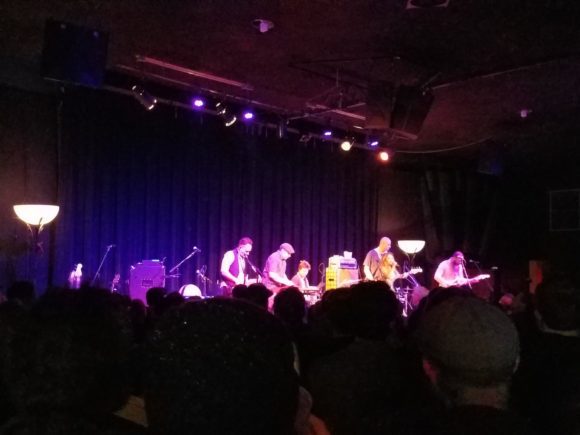 Dengue Fever and Tinariwen don't have much in common, on paper, but the two bands coming together for a national tour for some reason works perfectly. The tour passed through Minneapolis earlier this week for a (very) sold out show at the Cedar Cultural Center.
Getting to the venue right as Dengue Fever was starting, I was amazed at how full the Cedar was already. I've been to sold out shows at the Cedar, but this may have been one of the most sold out shows I've seen. The crowd got moving a bit (for Minnesotans) to the kinetic blend of Cambodian pysch/funk that was pouring out from the stage. The music was light yet packed a punch. The bass thumped along, the guitar was searing and the singing floated above the fray. They played for nearly an hour, and it didn't have the feeling of an opening act at all. In a cool move, Dengue Fever were joined by a percussionist from Tinariwen for one song, showcasing the cross pollination between the bands that lived in the pocket set by their rhythm section. The deep grooves that Dengue Fever rolled out, all rich organs and fuzzy guitars, would have been enough for the price of admission, but they were only half of the show that evening.
Which led us to the more restrained, yet equally hypnotic, set from Tuareg group Tinariwan. Using acoustic guitars, hand drums, electric guitar and bass, the band systematically unveiled their desert blues that has a deep, rolling power to it that really sucks you in as a listener. The group have been dealt their share of turmoil, and the tensions (and joy) come through in their songs. There are no shortcuts, and no melodies that seem destined to be tossed away. While it wasn't as immediately scintillating as Dengue Fever's amped up funk, there was a really power in their music.
These two bands, from different parts of the world and playing different styles of music, showcased that heart and soul — along with a deep groove that you unwind in whatever way you see fit – will always equal something good. In the case of these two bands, both on record and at this show, it is better than good, and something that music fans should feel lucky to hear and see.