Do Look Back | Dengue Fever Presents: Electric Cambodia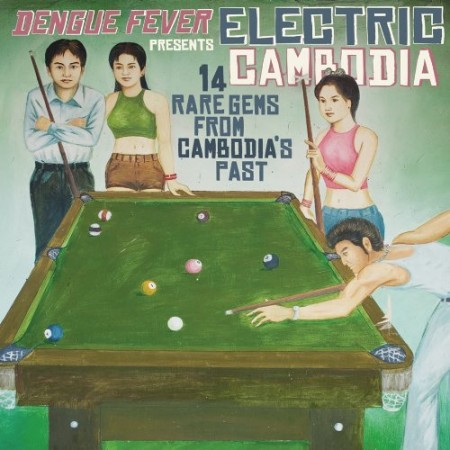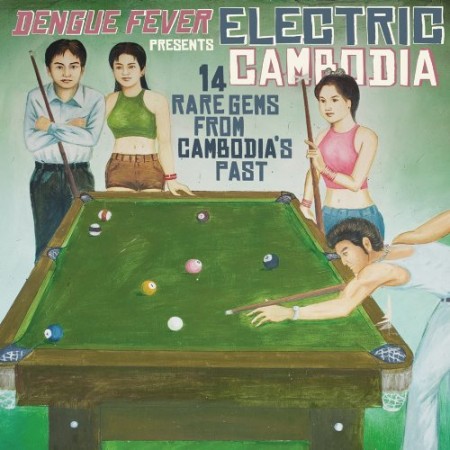 Los Angeles six piece Dengue Fever is an American band fronted by Cambodian singer Chhom Nimol.  The group has almost single handedly kept alive the torch of 60's Cambodian psychedelic rock/pop in modern times, recording several LP's over the past eight years of original tunes inspired by the genre as well as a large number of covers.   The band's most recent effort (aside from forthcoming LP Cannibal Courtship due in late March) was a compilation of rare pre-Khmer Rouge era Cambodian pop music entitled Dengue Fever Presents: Electric Cambodia.
Electric Cambodia is a really strong mix of the bizarre yet strangely danceable rock music of swinging Phnom Penh during a time when the traditional music of Southeast Asia was being influenced by American and European rock music.  Though the Cambodian pop movement pretty much hit a brick wall during the repressive Khmer Rouge regime (one of the worst in our world's history) it flourished beforehand, giving Dengue Fever a very fertile source for the compilation (and they even donated the proceeds from it to Cambodian Living Arts, an organization dedicated to reviving Cambodian art traditions that the Khmer Rouge nearly eradicated).
Some of the tunes are by unknown bands (stunning instrumental "Hope To Meet You") and one even has an unknown title.  Most of the fourteen tracks are lead by traditional sounding female vocalists (much like Dengue is) though "Jasmine Girl" (Sinn Sisamouth) features a rare male accompaniment.  And though Khmer singers share a distinct, nasal vocal style, Electric Cambodia's tracks really display's the gamut of ways the singers stretch that style to get unique results.  In "Flowers in the Pond" (Ros Sereysothea) the singing itself wraps around a strange accordion, sax, chime and bass accompaniment in a seesawing way that brings to mind a stringed instrument more than a voice.  Melancholy love song "I Want to be your Lover," (Pan Ron) features heavily reverb-laden vocals that sound a bit more Western.  And in an even more direct nod to the West, the same band covers Cher's 1966 classic "Bang Bang (I Shot My Baby Down)," though they change the name to "Snaeha."
If you have ever listened to Dengue Fever's music, much of Electric Cambodia will sound very familiar.  Dengue borrow from the 60's Cambodian sound to the extent that if they slipped one of their own tracks into the compilation it probably wouldn't be noticed.  It's definitely worth the effort to go back and discover where the band comes from though, as well as to give credence to an entire musical subgenre that was all but erased from the world due to a cruel tyranny.  I am sure that there are stacks and stacks of old Khmer LP's scattered around the world, but Electric Cambodia probably makes the best place to start.
— Jon Behm
Ros Sereysothea – Shave Your Beard
If you dig Electric Cambodia, check out Dengue Fever on June 3rd at the 7th St. Entry.
Buy a copy of the compilation here.
Dengue Fever:          Site
.