Interview with Andrew Broder ahead of January Residency (First show Thursday at the Turf!)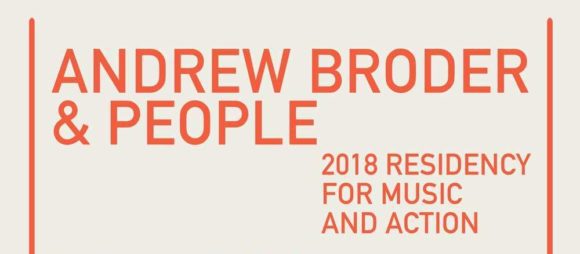 For a second year in a row, local musician Andrew Broder is curating a monthlong residency throughout January where he brings in a great cast of bands with proceeds going to organizations that are fighting for good causes here in Minnesota. You can see our coverage of last year's outstanding shows HERE, and you can check out the great lineups for the 2018 shows HERE (and also at the bottom of the post below the interview). We talked with Broder ahead of the series, which starts Thursday 1/4 at the Turf Club, about what to expect and how it feels different this year compared with last. RSVP on Facebook and buy tickets for the whole series HERE.
Reviler: Last year's residency was really great. For those of us who made it for the 2017 edition, what will be similar and what will be different in 2018?
Andrew Broder: Similar: Whole bunch of really cool artists representing a wide and inclusive cross section of the coolest shit happening in Twin Cities/ MN music right now, benefiting organizations and folks doing real work on the ground trying to improve real people's lives.
Different: More music, upstairs and down at the Turf. We're aiming to have some cool art installations, we're gonna have Eric Holthaus there on the 11th, prominent climatologist and climate writer doing very important work right now. We're making a super sweet B&W zine w original writing by me, other artists, local heros – I'm really proud of that. Drew Peterson the excellent local artist is printing collectable posters….And of course, many collaborations, pop-up performances, one-off stuff. I'm trying to jam with a bunch of people I've never met. It's the first time Midnite Express will have played at these venues and that's a very profound honor for me as well. I want them to be bigger, badder, more chaotic and more to absorb. Also, no straws. No straws at these. Fuck straws. And no bottled water backstage. Fuck bottled water.
Reviler: How did you pick the bands/themes for each week? Any bands in particular you are excited to have taking part? Any surprises local music fans should keep an eye out for?

Andrew Broder: I just wanted to have things feel young and fresh, so I can vampire off their energy haha…. No, I just wanted to have diverse, surprising bills, and get the point across of togetherness and solidarity in the music community. I'm stoked to have Condominium, they are my favorite punk band. SpankRock is really incredible live, excited for that. Stoked to play the mainroom, of course. It'll all be very cool and Yes, every week there will be surprises and unexpected stuff happening. I want it to be a happening.
Reviler: Last year you brought multiple of your projects to the stage (Fog, Cloak Ox, solo material, rap project with Crescent Moon) on different nights, but other than the Fog on the final night at First Ave, I don't see your name on the lineups as much. Will you be taking part or more organizing the nights?
Andrew Broder: A bit of both, I will be involved musically each week in some capacity, but less so, and yeah I am happy this time to be more the curator/ host/ pot-stirrer than in the forefront. And at the last one do a proper Fog set.
Reviler: At the events last year, you spoke about weathering the coming political shit-storm and using music and community to support each other. Now that we've been weathering the chaos for a full year, how do you feel benefit concerts –and music/art in general — fit within the current political turmoil? Does the goal of this event feel different in January 2018 versus January 2017?
Andrew Broder: Feels about the same, except we kinda know now what we are up against a little better? We – me and the friends helping me organize this- have been talking a lot about certain themes: accountability, despair, empowerment, "the end of the world", this feeling of reckoning. We're all having a moment of reckoning, it has been forced upon us. I didn't ask for this. I would much prefer to be playing 4 shows in January that we're gonna pay me and my friends some money. But it's up to us, and no one else. Artists and creators are people for whom it is natural to give, to build, to put beauty into this world, rather than destroying it. And artists have had a major role in any revolutionary pushback throughout human history, so… this is our job, you know? That's how I see it, this is our job right now. Just do what you can, and do more than you did before. Our so-called leaders have failed miserably, so… it's our job.
Reviler: Any final words to help motivate people to venture out into the frigid January cold three Thursdays and one Friday in January?
Andrew Broder: Do your fucking job! haha.. These will be fun and inspiring and make you feel good about where you live, we all need that right now. You go outside in the freezing cold to do a lot more mundane shit than this. Plus, you're giving a little money to great causes, for real people….
Show details:
tickets for all shows: bit.ly/2AcH6jv
Andrew Broder featuring Spank Rock Official, DUA, Psymun, Midnite Express Singers, and Top Secret Special Guests.
at the Turf Club on Thursday, January 4
Proceeds to benefit ACLU
$10.00 advance | $10.00 doors
7:00pm Doors
21+ / ID Required
Andrew Broder featuring Dem Atlas, Strange Relations, Nick Jordan, TEKK NIKK, and Feel Free Hi Fi.
at the Turf Club on Thursday, January 11
Proceeds to benefit Puerto Rico Hurricane Relief
$10.00 advance | $10.00 doors
7:00pm Doors
21+ / ID Required
Andrew Broder featuring Izell Pyramid, CONDOMINIUM, Mina Moore, JEREMY YLVISAKER, and 26 BATS¡
at the Turf Club on Thursday, January 18
Proceeds to benefit American Refugee Committee
$10.00 advance | $10.00 doors
7:00pm Doors
21+ / ID Required
Andrew Broder featuring Low, FOG, Marijuana Deathsquads, IN // VIA, and Midnite Express Singers.
in the First Avenue Mainroom on Friday, January 26
Proceeds to benefit Appetite For Change
$15.00 advance/ $15.00 doors
7:00pm Doors
18+ / ID Required