Parquet Courts: "Almost Had To Start A Fight/In And Out of Patience" / Show Thursday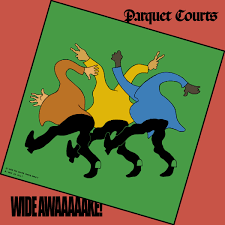 I don't think its hyperbole to state that Brooklyn fourpiece Parquet Courts are shaping up to be one of the talented bands of the current generation. They are a scant four albums into their career but every one is scarily good, with the potential (at least in my opinion) for "classic" status in the long term. To make a complicated point short: very few bands are this good at marrying highly intelligent lyricism to rock and roll that is also incredibly fun to dance to.
Their latest effort, Wide Awake, belabors that point even further in that it's the bands' most 'fun' record to date. It's full of serious and occasionally devastating musings on the state of modern culture, but at times it's also quite silly. It's kind of got a "party at the end of the world" vibe, a certain absurdity that in many ways reflects our current society. The best track of the record is (arguably) "Almost Had To Start A Fight/In And Out of Patience" which you can stream below. hear it live tomorrow night when the band performs at the Fine Line Music Cafe (tix here).
— Jon