Introducing: Bella Yaga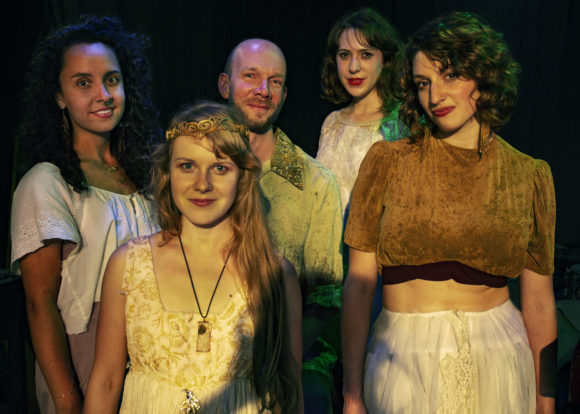 Minneapolis quintet Bella Yaga started as the brainchild of multi-disciplinary artist Anna Johnson, who has a background in visual and performance art but has gradually found herself drawn towards creating music. She joined forces with a cadre of other artists-of-many-stripes, consisting of Alia Jeraj, Alana Horton, Joni Griffith and Peter Morrow. They settled on the name "Bella Yaga" as Johnson grew up fascinated by dark tales of the Slavic deity Baba Yaga, adding the whimsical "Bella" to capture the dichotomy of themes of light and darkness, a theme that is exhibited in her work.
Bella Yaga recently released their first record together, Slipped From A Subtle Skin. It's a beautiful arrangement of tunes rooted heavily in the pastoral psychedelic folk of the sixties – particularly of the English variety (think Fairport Convention) but with some more modern electronic touches (like a tune recorded backwards) as well as elements of choral and chamber music. It's an elegant and stripped down sound – often carrying the melody via vocal harmony and spare instrumentation. A melancholy violin here, piano notes there, a singing saw, or gently strummed guitar chords. The band has a nice dynamic, creating arrangements that sound organically derived yet honed and crafted to a ruddy shine.
You can stream the whole album below and check out a recently released video for single "Spell" here. The band will next perform as part of "Powderhorn Porchfest" a homegrown music festival that will take place tomorrow (more info here). Follow the band's news here.
— Jon