Review: Bikini Kill At The Palace Theatre
The anticipation at the Palace Theater for Bikini Kill's first Minnesota tour date since reforming was extremely high. After dealing with the disappointment of the performance being postponed due to COVID, fans were chomping at the bit to get their show. These fans included the middle aged crowd you would have expected (who were fans of the band in their late 80's/early 90's heyday) but also a sizable contingent of young people, many of whom were likely born well after the band originally broke up in 1997.  As I made my way through the crowd I overheard a couple who looked to be in their late teens squealing that they couldn't believe they were finally going to see Bikini Kill. The band's message and music are obviously still resonating with youth, despite the span of years. 
Chicago punk quartet CB Radio Gorgeous opened the evening with a well-received set of tunes that showed some obvious kinship to the riot grrrl movement but also with elements of new wave and alt rock. Vocalist Anna Kinderman led the band through a high energy set, channeling a bit of Courtney Love in her tattered fishnets and confident energy.
Bikini Kill took the stage to rapturous applause and took the audience through spirited performances of classic tunes from their catalogue. Kathleen Hanna took lead vox through most of the set but also moved to bass on occasion for some Tobi Vail-led songs. Between each tune either Hanna or Vail spoke at length about the history of their band and the riot grrrl movement, giving several shoutouts to Babes in Toyland amongst others. Hanna credited Babes for "accidentally" launching the movement, inspiring (former band member) Billy Karen's guitar playing, as well as providing an example of kindness and kinship from fellow artists.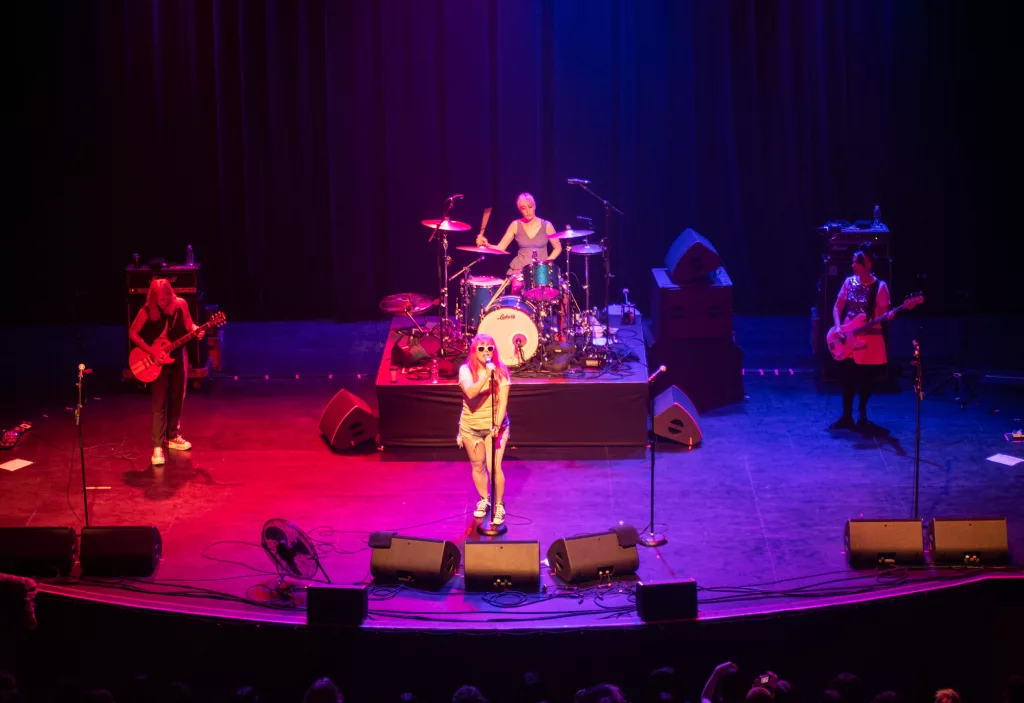 While mainly steering clear of specific issues, the band waxed about their political beliefs and the importance of solidarity and continuing to fight the injustice inherent in racism, sexism, and homophobia. Hanna notably discussed her own struggles with feelings of inadequacy when it came to "being a good feminist" and changing her way of thinking to considering feminism as a verb, rather than a more individualistic barometer.  
Throughout the evening the band also effortlessly but firmly brushed off both some ill-advised heckling as well as some object being thrown at the stage noting that they had been the recipients of bottles being thrown and beer spit in their faces back in the day so they weren't about to take that kind of shit lightly. Luckily even the troublemakers mostly kept themselves under control so that overall the evening went off without a hitch. The young in the audience got a taste of a band that has been until now denied to them due to the span of time and the older folks (myself amongst them) got a chance to reconnect with the rebel girls of their own youth.  
Find the setlist form the evening here