Taking a Guess at the Rock The Garden Lineup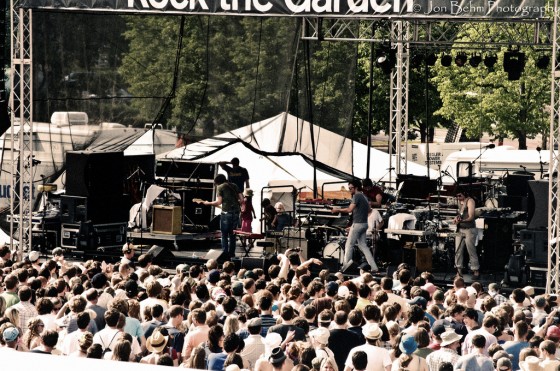 Recently we took a best guess at what the Pitchfork Festival Lineup was going to look like (before the bands were announced). Now we are doing the same with the Twin Cities own outdoor summer music festival, Rock the Garden, which is planned by the Walker Art Center in partnership with the Current, and will likely happen sometime in June.
If you have predictions of your own, please chime in on the comments section
HEADLINER
Prediction: The headliner will probably be a popular band with a broad appeal to the urban middle class as well as the kids.  Probably white, mostly male, and with a "safe" sound.
Best Guess:
Silverson Pickups
Previous year's equivalent:
The Decembrists, Andrew Bird
Runner Up:
The Hold Steady
Awesome Long Shot:
Prince
Most Terrifying Prospect:
Silversun Pickups / Kings of Leon
2ND HEADLINER
Prediction: A more youth oriented band with a less accessible sound.  Something to appeal to the hip kids without scaring away the old folks.
Best Guess:
Sharon Jones & The Dap Kings
Previous Year's equivalents:
Yeasayer, New Pornographers
Runner Up:
Vampire Weekend
Awesome Long Shot:
Dirty Projectors
Most Terrifying Prospect:
Death Cab for Cutie
OPENER
Prediction: Probably a popular local or regional band that have a big fan base in the Cities. 
Best Guess:
Mason Jennings
Previous Year's Equivalents:
Cloud Cult, Bon Iver
Runner Up:
Retribution Gospel Choir
Awesome Long Shot:
Lifter Puller reunion
Most Terrifying Prospect:
Umphree's McGee
OPENER (First)
Prediction: Probably local – probably female since previous lineups have been so male-heavy.  Likely Hip-Hop since they haven't had any before. 
Best Guess:
Dessa (or Doomtree)
Previous Year's Equivalents:
No equivalent – if the festival does hip – hop it will be the first time since the festival started back up.
Runner Up:
Lookbook
Awesome Long Shot:
Dessa would pretty cool  – or any hip hop at all for that matter
Most Terrifying Prospect:
Wookiefoot (this won't happen)