Method Man, Ghostface and Raekwon Wu Massacre Review (4 Takes)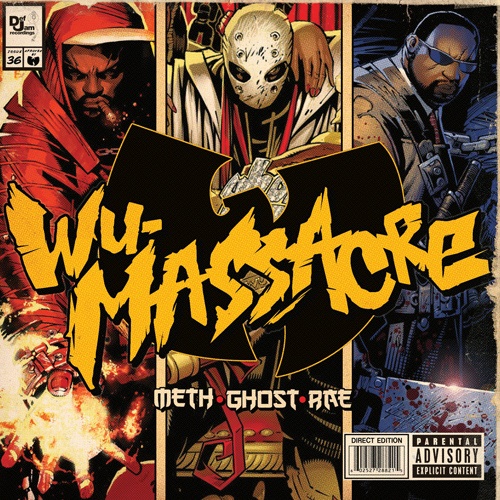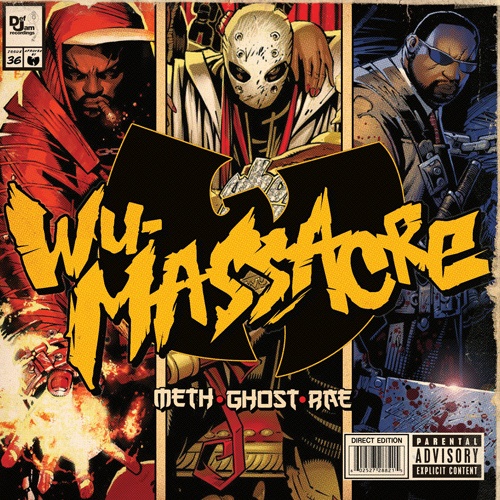 45/100 (Mojo Marshall from Switchblade Comb)
In my opinion the Wu-Tang Clan haven't put out a good record in almost a decade since 2000's The W. I was intrigued to see RZA teaming up again with Raekwon, Ghosface, and Method Man. The album opens with a great banger "Criminology 2.5," an outtake from one of Raekwon's solo albums. Unfortunately the album is pretty much all downhill from there.
The bad.
The production as a whole was boring and too repetitive.  The production on "Gunshowers" was so bad I actually skipped it after a minute I couldn't stand it anymore. The two skits on album are dumb, even with the hilarious Tracy Morgan they couldn't avoid being annoying. The album just has a feeling of all filler material and half-assed effort. There was nothing that really made me want to listen to these songs again. Also Raekwon had little presence on the album.
The Good.
I already mentioned "Criminology 2.5" being a keeper. "Our Dreams" is also okay, but it's hard to fuck up a song when you're sampling Michael Jackson. I thought Ghostface was pretty solid on all the tracks. The production on "Smooth Sailing" was also good, but that's because it sounds like one of my all-time favorite songs: Brother Ali's "Room With a View." Method Man and Ghostface killed it on "Miranda." Lastly, the best thing about the new record was it only clocked in at 30 minutes long.
I don't mean to be overly harsh or have my expectations so high, but the Wu-Tang Clan are legends in the rap-game and it's hard to see them off their mark.
80/100 (Jon Jon Scott from Sound Verte)
So Raekwon is coming off his comeback back opus Only Built 4 Cuban Linx II, Ghostface just delivered a major disaster in Ghostdini, and I don't even remember the last time Method Man had a good song. So what does an opportunistic corporate dude at Def Jam think? Hey let's take two of our artist Method Man and Ghostface Killah, team them with Raekwon for a one-off jump without spending much time, money or effort and see what happens.  In what seems like a token reference at "keeping The Wu-brand" in tact,  Wu-Massacre is very short, with the trio holding it down and only and appearance by Inspectah Deck, no GZA, Cappadonna (who is listed on the missing bonus track  "Made Men")  or U-God? In only 29 minutes including skits, a remix and remakes.
Opening with visits to their past with "Criminology 2.5" and "Mef Vs Chef 2" with Raekwon and Meth and "Smooth Sailing Remix" with Ghost and Meth alongside weed carriers Solomon Childs & Streetlife. Inspectah Deck makes a welcomed appearance on "Gunshowers" and Ghostface shines as he spins a  storytelling narrative on the solo jump "Pimpin' Chipp". The  strongest moments however are when the trio connect as one they do on only 4 tracks,  "Miranda", "Criminology 2.5", the concrete pounding "Dangerous" and the hit "Our Dreams".  RZA's only contribution the excellent "Our Dreams", rides on a Micheal Jackson sample from "Were Almost There" .  Ghostface and his goons go in on the grimy stick-up joint, "Youngstown Heist" and Method Man and Ghostface close out it with "It's That Wu Shit".  What's missing? More of RZA's production, DJ Premier, Just Blaze, and a few sure shots from a  vet in Nas or a rookie say, Jay Electronica to spice things up. As Raekwon bask in street realism, Method Man delivers his usual hyper exuberance and Ghostface verbal dexterity would be well explored on an actual full length. Instead we get an appetizer. I feel like Raekwon was like that's enough, Def Jam ain't putting up the resources for a "proper" longplayer. Wu Massacre is a great ep that showcases the possibility of what the golden trio would sound like, if they actually made a record together.
70/100 Graham O'Brien (No Bird Sing  drums & production)
(disclaimer: this review is mostly from a production point of view)
I can't say I've been following Method Man, Raekwon, and Ghostface's individual careers all that closely since what I believe to be their creative prime: each of their respective solo records in the 90s (2000 for Ghostface). So I'm not hiding my bias toward their earlier, RZA-produced, Wu-solo efforts.  But in looking back, that theme holds true for most popular hip hop artists that were active then and still now – for some reason the 90s marked a period of creativity, risk and innovation.  It was definitely a different tone back then.  Consider that GZA's Liquid Swords album charted at #2 on the Billboard hip hop chart.  One got the idea that the music was created with painstaking planning and execution.  Or, maybe it's that we were all 15 years younger back then and were just easier to impress?  I don't know, even listening back to the classic Wu discography now, it still menaces and pulls you in – it's inspired.
Now, coming with a mix tape feel, (clocking at 38 minutes, with 6 or 7 different producers providing the sounds) the new Meth-Ghost-Rae album, "Wu Massacre" falls a bit short of that.  I can see how this album could have been marketed as a quick high-energy EP – the flow feels more like a mix tape or compilation than a full album.  And I imagine that's exactly what they were going for.  But to me, the main reason their earlier work was so good was RZA's production and vision, in creating each album as a living, breathing world; alive with themes, transitions and details.
Wu Massacre has its moments though – the production is very well done, capturing and combining dusty, dark drum set samples, with vintage vinyl soul.  Check out track 11, Youngstown Heist (feat. Trife, Sheek & Bully) (prod. by Scram Jones) as an example.
85/100 (Jon Behm)
I almost had to turn in my Wu Tang fan card last year when I dared to suggest that Only Built 4 Cuban Linx…Part II was good but overrated, so it is with some trepidation that I approach the next Wu effort, this year's Ghost/Meth/Chef collaboration Wu-Massacre.   Thankfully I was mostly satisfied with the new material – despite jumping off with a somewhat unnecessary recycling of "Criminology," Massacre delivers some tight beats and the Wu crew's typical schizophrenic array of rhymes.  "Meth vs. Chef 2" (even better than the original Tical offering of the same name) really bangs like a Wu classic, not to mention the Michael Jackson sampled "Our Dreams" (The RZA's only production credit and the record's best track) as well as"Dangerous" and "Gunshowers."  If I have any complaint at all it's that Wu-Massacre at times seems a bit uneven.  With quite a few different production styles spread out over the album's thirty minutes, at times Massacre sounds more like a mixtape than a proper LP.