Avey Tare: Down There Review (Four Takes)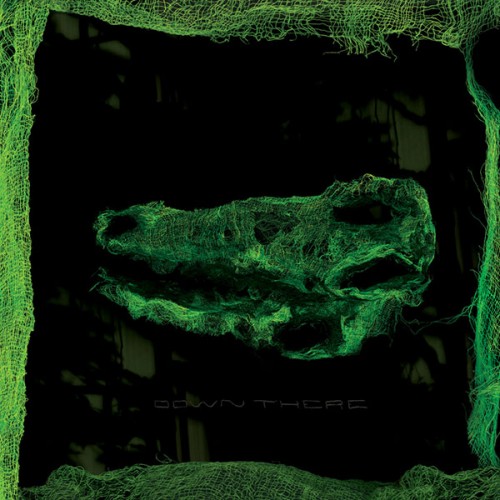 It can be difficult to gain a balanced perspective on an album after reading a single summary of the music. Bias can tilt a review, as can personal taste, history and just about everything else that is unique to the person writing it. So in an effort to offer an expanded perspective in such a medium, here are Four reactions, Four impressions, Four Takes on Down There  by Avey Tare.
Matt Linden (Reviler)
80/100
All things considered, it's kind of a shame Avey Tare's solo debut release is the first piece of Animal Collective work post-Merriweather Post Pavilion – the AC album that transformed the psych-loopers from avant-garde mainstays to glossed-over indie darlings. But it's not because he doesn't have the chops to take a stab at his own monumental album – it's just that he doesn't have as much solo material under his belt and/or notoriety as the other Animals – Panda Bear especially. But as Mr. Tare shows on his nine-song debut album Down There, he doesn't need the rest of the Animals to make blissfully dizzy pop. And in making his own statement, he is able to capture a sound that is far-removed from Panda Bear's bright, Brain Wilson-style loop-pop into something that is wholly his own. And judging by the dark, crocodile-printed cover alone, if you guessed the album was in fact darker and dealt with waterlogged, submerged-sounding vocals and samples than you were right on. Songs like "Oliver Twist," "Lucky 1" and "Cemeteries" are the only tracks that hit the vibrant, bass-heavy stride of MPP. While others like the opener "Laughing Hieroglyphic," "3 Umbrellas," "Glass Bottom Boat" and "Heads Hammock" take after the album's title, delivering a batch of songs that are zany, crazed experiments in gargling vocals, at times minimalist loops and equipped with an overall heir of pending doom. In short, his isn't an exercise in Animal Collective big beat pop. This isn't an Animal Collective record. This is an Avey Tare record. And that's why fans of the artist, or his band, will soak in Down There and accept it as a great addition to 2010. It's hard to say whether this album will 'beat out' Tomboy in the match between who will release the most revered Animal Collective record post-Merriweather Post Pavilion, but Down There was a great listen and a genuinely creative collection of songs.

Ali Elabbady (Background Noise Crew, Egypto Knuckles)
83/100
 
Five words to scare anybody who's a fan of Animal Collective: new Avey Tare solo album.  Rest your indie hearts; there is no breakup, there's no melodrama, there's nothing.  Avey Tare's solo effort, however, doesn't play you the whimsical whirlwind musical stylings of Animal Collective.  During the 35 minutes of "Down There," its certainly an electronic affair, but its much more subdued and walks more of a depressed path.  The stuttered and plodding drums on "Laughing Hieroglyphic" are an example, however throughout the record, each track takes a further downward spiral into the depressing and the unsure, neither of which makes the record suffer.  The arrangements and structure from previous Animal Collective projects is what helps the progression of the project as a whole.  In addition, the haunting synth melodies along with Avey's vocals help place a lot of texture to what may seem like a short record, which can be heard particularly in the syncopated rhythms of "Ghost of Books," and the guttural yet rigid guitar sounds in "Cemeteries."  All in all, not bad for a solo outing one bit, and hopefully the evolution of those sounds will manifest themselves in his next solo outing. 

Josh (Reviler)
76/100
It is always interesting when a well known band has two main songwriters and they each do solo albums.  This allows fans of the group to get a much clearer view on who is pulling the band what directions.  This exercise in pulling back the curtains is happening right now with Animal Collective's two main songwriters, Panda Bear and Avey Tare.  As the group has climbed the ladder in becoming one of the biggest indie bands around, that additional spotlight has seemed to shine brighter on Panda Bear than it has Tare.  Panda Bear released one of the most critically acclaimed albums of the 00's (Person Pitch) and critics have fallen over themselves with each new track released from his upcoming Tomboy LP.  With all that happening, Avey Tare rather quietly released his latest solo album, Down There, which touches on a lot of the strengths that also make Animal Collective so good.  The record ranges from the hypnotic soul of album opener "Laughing Hieroglyphic" to the scary, distant pop of "Oliver Twist" to the hushed beauty of "Cemeteries" and the big beat "Head Hammock."  While I personally prefer Panda Bear and his wide eyed electro pop, I think it would be a mistake to ignore the creative and challenging work of Avey Tare.  Without his influence, which is shown clearly on Down There, Animal Collective would not be the amazing band that they have are.  It must not be fun to be overshadowed by a bandmate, but as long as he keeps making music like Down There, Avey Tare should be just fine.

Jon B (Reviler)
73/100
I tried to come up with a meaningful reflection on Avey Tare's new record Down There, but unfortunately it just didn't make a huge impression on me – positive, negative, or otherwise.  I enjoyed some of the album's more moody, downbeat offerings like "Cemeteries," "Heather in the Hospital," as well as the track that probably comes closest to mimicking Animal Collective's (Avey Tare's band) most recent material, "Lucky 1."  Much of the rest of the album though, seems good but not all that inspired.  Experimental beats, off-key vocals, watery sounds poured all over everything – I guess I get it even if it just doesn't really move me.   I kind of feel like if this record had come from a new artist though rather than a member of a beloved cult band, then it might have gotten cut less slack.  That being said – its not bad at all – in fact at times it can be downright transcendent. Those times are relatively brief and too far between though for me to earmark Down There for future listens.  
Avey Tare:          Site
.