Live Review: The Besnard Lakes at 7th Street Entry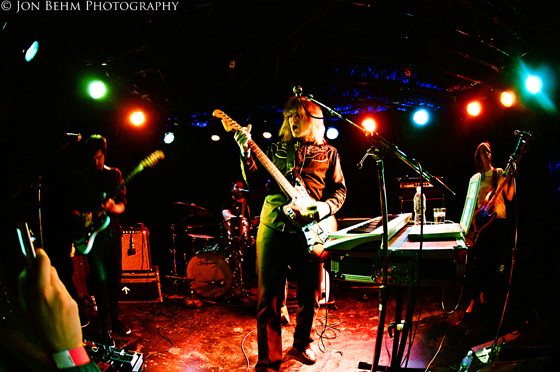 Epic and grandiose music always runs the risk of falling flat on its face in the live setting. So many things can go wrong. The music can be too canned, with the intricate and important details left to machines. The band can forgo the extra help, but the massive sound the band creates will often suffer as a result. The list could go on and on. There are a million different reasons why bands that sound great on record can falter live, and luckily none of those apply to the Besnard Lakes.
The group, touring behind their excellent third album The Besnard Lakes are the Roaring Night, played a stirring, compelling and powerful show Wednesday night to a nearly full 7th Street Entry. The group mixed in songs from their stunning second album The Besnard Lakes are the Dark Horse and their latest album, keeping the crowed enraptured throughout the nearly 90 minute set. Highlights included husband and wife duo Jace Lasek and Olga Goreas singing their atmospheric shoegaze pop on tracks like "Chicago Train," "Disaster" and "And You Lied to Me." The group walked the line perfectly by mixing their serious music with funny banter between songs, loosening the mood created by their blistering performance.
I could go on and on about how great Besnard Lakes were at the Entry, but I think you get the point. The groups last two LP's have been in consistent rotation for me and are albums that I feel will be records that will be staying part of my rotation for many years to come. The fact that they put on an amazing live show to back up these records is like the proverbial icing on the cake.
     -Words and Videos by Josh Keller, Photos by Jon Behm (Full Photo Set HERE)