Live Review: Yeasayer and Sleigh Bells at First Avenue
Yeasayer have always been a popular band in the Twin Cities, but Wednesday night they took their achievement to the next level with a high energy, sold out show in their first run headlining the First Avenue Mainroom.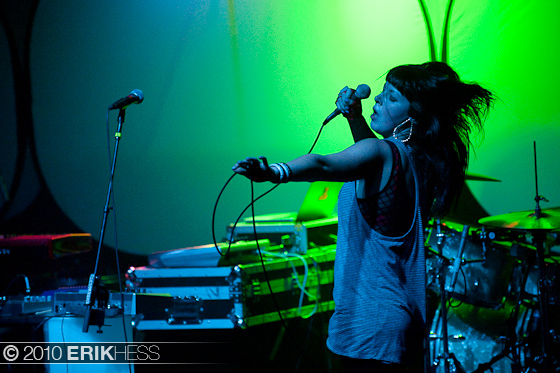 The show started with a high octane and fun set by buzzing duo Sleigh Bells. The group didn't win any points for their technical execution, but their visceral, metal riffs meet hip hop beats really sounded massive live. Even if guitar player Derek Miller seemed more into it than his actual playing was worth, it didn't matter as all eyes were on Karen O wanna be Alexis Krause. The band mixes MIA like post hip-hop beats with larger than life guitars and Yeah Yeah Yeahs esqe exuberance. The highlight of the set, which was all new since the band has not released a record yet, was set closer "Crown on the Ground," which is also the strongest recording the band has yet to release.
While I know not everyone in attendance was enamored with the bands fun but technically lacking show, I am not sure there will be much in the way of avoiding them as they seem to be getting more and more attention each day. I imagine the next time they roll through town it will be as headliners and they will get as strong a reception as they did Wednesday night.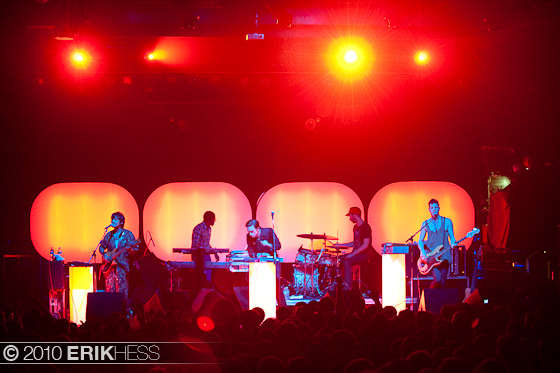 Yeasayer were back in town for what seems like their 80thshow here, but it was their first since their 80's turn on their sophomore record Odd Blood. That new synth driven sound was evident throughout the set, even on the older material from their debut All Hour Cymbals. Standout tracks from that album ("2080", "Sunrise" and between album song "Tightrope") all were adorned with an extra layer of glam as the band played up their new sound backed by a glowing light show.
Like on record, I prefer the bands older, more organic material, so as expected the show was not as exciting for me as it was for most of the other 1500 or so people crammed in First Avenue. While they sounded sharp and their presentation, as always, was great, I guess I will just have to hope they go back to having a more guitar focused sound on their next record so I don't have to hear so much drum machine and synths next time they come to town.
     -Words and Videos by Josh Keller, Photos By Erik Hess (Full Photo set HERE)