Blitzen Trapper: Destroyer of the Void Review (Four Takes)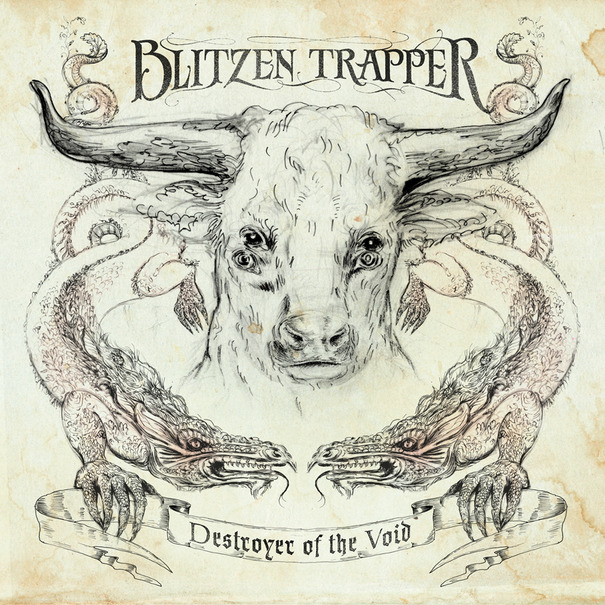 It can be difficult to gain a balanced perspective on an album after reading a single summary of the music. Bias can tilt a review, as can personal taste, history and just about everything else that is unique to the person writing it. So in an effort to offer an expanded perspective in such a medium, here are four reactions, four impressions, Four Takes on Destroyer of the Void by Blitzen Trapper
Jon Behm, Reviler
69/100
I gotta admit, I was bored to tears about halfway through Blitzen Trapper's new record, Destroyer of the Void. And considering how much I love the band's last album Furr, it came as a substantial disappointment. Even the album's brightest points, such as Alela Diane guested "The Tree," "Evening Star" and "Below the Hurricane," there just isn't that much there to recommend. That isn't to say that it isn't an ambitious effort though. In Destroyer Blitzen adds a string element, as well as pushing their sound further towards the classic rock/prog of the late seventies/early eighties. It was the era that fueled the playlists for classic rock stations for years to come, so it isn't a huge surprise that much of Destroyer sounds as innocuous as the crap you hear daily on KQ 92. It sounds like the band was going for a Zeppelin meets Jethro Tull eclecticism, but ended up with some kind of bastard REO Speedwagon offspring. Eric Earley's lyricism is still as strange, and unsettling as ever, but in the guise of these twelve songs it really doesn't make a whole lot of difference.
Jon Schroder, Radio K
77/100
Although Dr. Dog formed before Blitzen Trapper, the sound on their new album is exactly what the former group has been trying to emulate for years, but with a more psych-tinged vibe. Unfortunately, Dr. Dog never quite makes it each go-around, but Blitzen Trapper have become increasingly solid in a genre of brooding folk which has become oversaturated with equally impressive acts like Band of Horses, Midlake, and Fleet Foxes.
It's a much quieter album than previous efforts, perhaps teased to an extent from the excellent Black River Killer EP from last year, and it's a rightfully expected mature sound for a band reaching its 10th anniversary. The album can be described with the cliché that you grow wiser as you get older, and Blitzen Trapper aren't taking any outstanding chances in this production, but they do know good song-writing and how to keep captivation tight.
"Dragon's Song" is a total throw-back; the guitar riff at the beginning might be one of best mood-setting melodies I've heard in a long while before a driving bass line takes over everything. Next song, "The Tree," is automatically a solid effort utilizing a collaboration with one of our most talented chanteuses, Alela Diane, who played a highly underrated show last fall here in Minneapolis.
The second half the album isn't as directly impressive as the first set of songs with a much more experimental vibe in tow. This is typically the fare on Blitzen Trapper's efforts; we get a nice mix of reliably good tunes placed alongside ones that are total growers. I'm curious to see how these are received in a live setting when they come back with the excellent band Avi Buffalo this summer. They'll complement each other's sounds nicely, with Avi providing that youthful tinge that Blitzen used to whole-heartedly embrace when they were first starting out.
JH
83/100
Blitzen Trapper's fifth full-length finds band leader Eric Early channeling his inner Dylan, giving up the diverse mix of styles and sounds that characterized their breakthrough Wild Mountain Nation. So much of the charm of that earlier album came from Blitzen Trapper's Zelig-like ability to transform itself into a different band on each track, sounding like Pavement, Beck, Journey, The Shins, and the Grateful Dead, each in turn.
On Destroyer of the Void, they instead follow the path set out on 2008's Furr, giving up their eclecticism and hard-rock tendencies and settling on a more consistent acoustic folk sound – the one exception to this coming on the Sabbath-esque "Love and Hate." The latest album also feels less like a collaborative effort and more like a showcase for Eric Early's singing and songwriting abilities. However, this is not necessarily something to complain about. Early has an immense gift for crafting haunting Americana, and couching the melodies in unique arrangements. This is especially true on "The Man Who Would Speak True" and "Dragon's Song." Another high-point, "Lover Leave Me Drowning" – a tune that could have been penned by the Everly Brothers, moves toward a searing guitar solo which gives way to strings. Yet, one of the quietest moments on the album proves to be the best – "The Tree" – a gorgeous duet with folk songstress Alela Diane.
Destroyer of the Void is Blitzen Trapper's third straight consistently great album. At the same time, the range of their earlier work makes me hope that they haven't settled on their style, but rather keep exploring.

Josh Keller
71/100
Blitzen Trapper apparently have a relatively short half life for me, as their latest release marks a quick and brutal downfall from a band I formally liked quite a bit. Wild Mountain Nation hit me pretty quick and was an album that had a long shelf life for me. Their much more popular follow up Furr was good, but grew tiresome much more quickly. Their latest LP, Destroyers of the Void, bored me upon my first listen. The album finds them leaving their alt country Pavement stance and seemingly head to replace Dr. Dog as the classic rock band de jour, to about the same results Dr. Dog found on their last LP (which is not good for those who missed Shame, Shame). There are some strong tracks, including "The Tree" (which is helped by the amazing Alena Diane) and the rambling folk of "The Man Who Would Speak True." Unfortunately the disc for the most part flew by with not much grabbing me, with a few of the songs (including the schmaltzy pop of "Lover Leave Me Drowning") making me reach for the next button. I am not someone who ever becomes attached to bands and worships everything they do, but it is still disappointing when a band you really liked puts out a dud like this. It is especially jarring because they are a band that was suspect at best in the live setting, but I could always rely on their rock solid studio albums. Not anymore.