A.R.M. – Two Africans and a Jew EP Review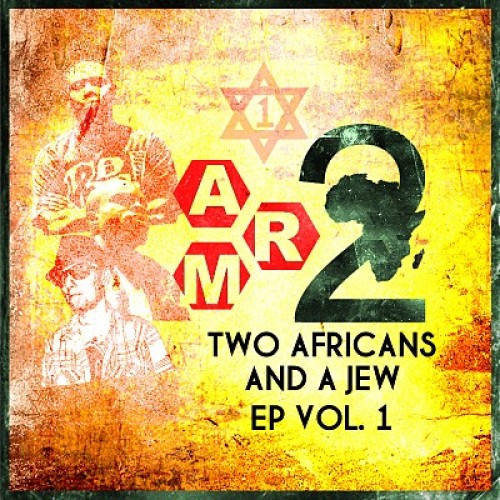 82/100
A.R.M. cheekily titled their debut EP Two Africans and a Jew because essentially, that is exactly what they are:  two African emcees (Ghanaian/Minnesotan M.anifest and Ugandan born Krukid) working with Jewish American producer Budo.  The result of their collaboration is nine new tracks (incredibly long for an EP) which mix Budo's funk and soul beats with the two rappers' worldy lyricism.   With the project's main players working so far apart (Minneapolis, Brooklyn, and Kampala, respectively) you might expect an uneven mix of styles, but surprisingly the trio maintains a singular, cohesive sound throughout the entire EP.
While Two Africans' titular first track is a bit of a non-starter, things heat up quickly with the one two punch of "Breakdown" and "Refuse to Lose."  The former meshes the two emcee's styles nicely over an afro centric, brass heavy beat, with Krukid's syllable-snapping bark making a nice counterweight to M.anifest's laid back flow.  The latter features Twin Cities rising stars Muja Messiah and Dodi Phy, whose intense wordplay takes center stage, while Budo allows the beats ebb and flow around them, letting the emcees spit over minimal beats, but then taking the reins for the epic choruses.  Other guests include Atmosphere's Slug, who contributes a single verse to "Fear of the Mundane," as well as North Carolingian rapper Supastition, who joins in on one of the EP's standout tracks "I Shine" (technically a bonus track).
There are a couple more standouts in "Words," in which Krukid stretches out his rhymes to the point where it sounds like he is going to asphyxiate himself, as well as "Bets on Me," a fun, funk sampled romp that closes the EP out.   Two Africans does linger a little long on the melancholy, with two back to back heart-rending mediations on human relationships ("Something" and "Ballad for You") but it does little to darken the tone of an otherwise sprightly work.   In the realm of local hip hop, 2010 has a lot to live up to after last year's banner achievements.   With a few more records like Two Africans and a Jew though, we could be well on our way to living up to those expectations.
— Jon Behm
A.R.M. – Breakdown (A.R.M. Boogie)
Two Africans and a Jew is available now here
A.R.M.:          Site
shutterfly coupon codes
national labor relations act
affiliated computer services
jones international university
la superior court traffic