Private Dancer: Alive in High Five Review/Show Reminder
by josh keller · Published · Updated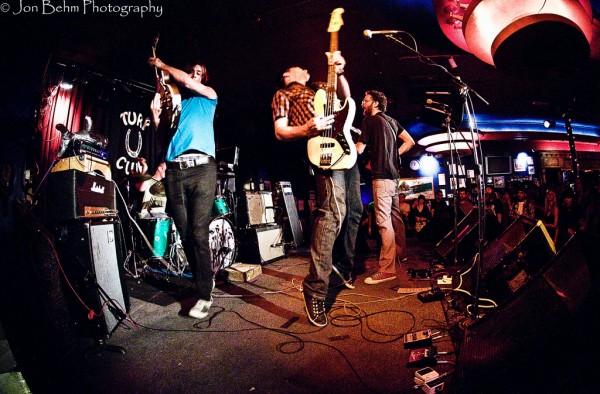 We jumped the gun on reviewing the new Private Dancer album Alive in High Five a few months back, so we are using their CD release show tonight at the Turf to remind everyone about their great new album.  They will be celebrating the release tonight with Slapping Purses, Capricorn Vertical Slums, Teddy and the Turks and France Has the Bomb.
     -Josh
DREAM BIG … IF YOU'RE UNDER 51.(FRONT)(THE TALK)(Column)
The Capital Times March 1, 2007 Byline: Doug Moe A DOCUMENTARY production company, Dream Realization Media, has chosen Madison as one of 12 cities across the country in which interviews will be conducted for a new documentary titled "Dream." The producers are hoping to find between six and 10 people to feature in the film, which they say will explore "the dreams that inspire and sustain us and the steps we go about to fulfill them." Their release continues: "Dream Realization is looking for a diverse group of people, each of whom is focused on a particular dream and has already taken steps to achieve that dream. The dreams may fall into such categories as prosperity, ethics, family and relationships, self-fulfillment, fame and charity. There should also be a particular obstacle or challenge that could be an impediment to achieving that dream or could force them to reassess that dream." Madison area residents who are interested should send a one-page description of themselves and their dream to the following Internet address: [email protected].
The producers provided a few examples of what a potential dream and challenge might involve. For instance:
Dream — A house overlooking the ocean.
Challenge — Employed by a company in transition and in peril of being downsized.
Another:
Dream — Achieving recognition among your peers in your chosen profession. see here jimmy buffett tour 2011
Challenge — Career advancement will require a location and lifestyle change that will be unfavorable to your family.
And another:
Dream — To participate in an Ironman triathlon.
Challenge — A serious injury or illness.
I was all set to compose my one-page dream/challenge scenario when I read back through the press release and noticed that Dream Realization Media is only interested in people aged 15 to 50.
In January, I turned 51. I find the rules outrageous and insulting. Am I no longer allowed to dream?
I think the producers might want to rethink the age restrictions. Those of us in the AARP-eligible bracket have some interesting dreams, and, especially, bring some interesting challenges to the table. In my own case, for example:
Dream — To be able to eat as much pizza and ice cream as I could when I was 15 years old without requiring a new wardrobe and/or hospitalization. in our site jimmy buffett tour 2011
Challenge — If I ate a 16-inch double-cheese, three-meat pizza followed by a quart of chocolate chip ice cream tonight, I would become comatose, which, among other things, would interfere with breakfast.
I thought maybe I wasn't aiming high enough. So:
Dream — To have a singing career as the opening act on a Jimmy Buffett tour.
Challenge — Can't sing.
Dream — Buy a condo in the Caribbean.
Challenge — No money.
It struck me that perhaps those were completely unrealistic — I was aiming too high. So instead:
Dream — To break par for 18 holes at Odana Hills.
Challenge — I can no longer drive the ball more than 220 yards, I yip short putts, my eyes are going bad, my knees and shoulders hurt, and the course is under a foot of snow.
It finally dawned on me Wednesday that something was wrong. I must not have been approaching my dream realization application in the right way, because the producers said that "the film will be a study of how focusing on your dream, regardless of the obstacles, enriches your life." Enriches?
The more I thought about my dreams and the obstacles, the more depressed I became. Maybe that's why they won't let a 51-year-old in the contest.
Dreaming is fine, but after the past month of weather, and catching a terrible head cold this week, I am beginning to understand what the guy meant who said there are times when "survival is triumph enough." I yearn for a week without any snow or ice. A day without sneezing.
Dream — To make it to tomorrow.
Challenge — Today.