Live Review: Caribou at 7th Street Entry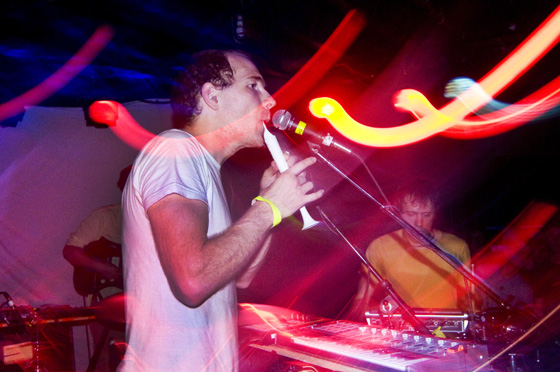 Considering that Caribou is nothing but the stage name of Daniel Snaith, who is solely responsible for all of the composing and performing on the studio albums, and considering that most of his music consists of digital sounds layered upon sounds with super-human precision, one would expect a live show to be little more than a man with headphones standing behind an iMac and a mix board. However, Snaith left the headphones and laptop at home and turned up instead with mates Ryan Smith, John Schmersal and the phenomenal Brad Weber on drums to play a real-life rock show. Snaith himself alternated between guitar and keyboard switching occasionally to duel with Weber on drums.
The set was unexpectedly wide-ranging, covering multiple tracks off 2007's Polaris Prize winning Andorra, as well as 2005's Milk of Human Kindness with only about half of the set coming from the newly released Swim. While it's hard to imagine three more diverse albums than these, with the Kraut-focused Milk, the melodic honey and sunshine psychadelia of Andorra, and the more astringent techno material of Swim, somehow played live, they coalesced into something strangely singular.
The show came in at exactly an hour with a single song encore. The high point came midway on the performance of Swim opener, "Odessa," which it is safe to say is one of the most infectious dance songs ever written about divorce. Snaith went straight-up fifth grade music class, busting out a wicked recorder solo.
While it's puzzling that someone of Caribou's stature is not playing the mainroom, I don't think anyone who managed to get a ticket was complaining.
-Words by JH, Full Reviler photo set can be found HERE.