Fergus and Geronimo "Girls With English Accents"
by josh keller · Published · Updated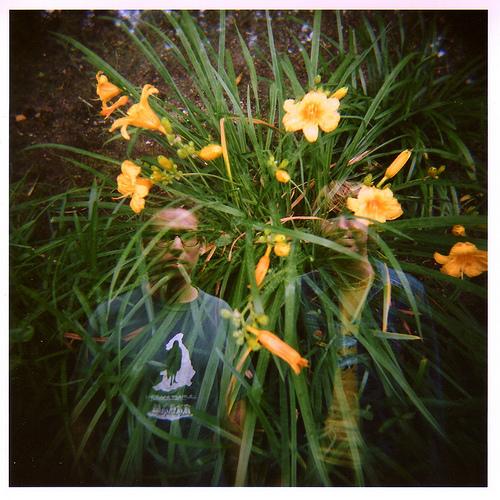 My first exposure to Fergus and Geronimo was their scintillating garage rock stomper "Tell it (In my ear)," which still gets me going when I listen to it.  Their latest track, "Girls with English Accents," is less of a stomper and more sweet homage to girls from across the pond.  The guitars and percussion are simple and to the point and the vocals are more Byrds than Black Keys.  Still no word on a full length, but the group is hooked up with the always amazing Woodsist record label, so hopefully we will hear something soon.
Fergus and Geronimo- Girls with English Accents
     -Josh
ONE 2 ONE; Jacko rumbled in jungle with Lisa.(Features)
Daily Record (Glasgow, Scotland) October 15, 1997 | Dingwall, John; Fulton, Rick This is the explosive picture which shows Wacko Jacko back in tow with ex- wife Lisa Marie Presley.
Our shot of the pair on safari in South Africa will stun Jacko's current wife Debbie Rowe.
For she's back home in Los Angeles, claiming she's pregnant with the King of Pop's second child. And the intimate pictures of him with Lisa Marie will fuel speculation that Jacko is set to divorce Rowe – the mother of his year- old son Prince – and wed Lisa Marie for the second time.
Jackson took Lisa Marie and her two children to South Africa as he continued his History tour there last week.
The couple spent the weekend together as he was made an honorary African tribesman.
Lisa Marie clung closely to him as he became a member of the Bafokeng Ka Bakwena (People of the Crocodile) tribe.
Jacko, in his usual military-style jacket complete with gold badges, walked slowly through Nthebi town, surrounded by children from the Tswana tribe.
Missing was his trademark smog mask and there was no sign of a wedding ring.
Earlier, Jackson had been best man at the wedding of NBC newsreader Prudence Solomon and millionaire American hotelier Jerry Inzerillo in Cape Town.
He and Lisa Marie went water ski-ing before enjoying an exclusive Sun City party.
Lisa Marie, wearing a seven-strand pearl necklace, seemed perfectly relaxed as the pair, joined by Jacko's mum Catherine, watched a raunchy leopardskin-clad dancer at the private bash.
A Jackson insider said: "They are still very close. They had a lot of fun together.
"Lisa Marie loves the shows and has been to a number of concerts. That's all I can say." Singing in the train Scots movie hunk Ewan McGregor wants his Trainspotting pals Danny Boyle, Andrew Macdonald and John Hodge to team up for a lavish musical. lastnightmovienow.net last night movie
The foursome hit the big time with Shallow Grave and Trainspotting.
And they are set to enjoy their biggest success yet with A Life Less Ordinary, which stars Ewan and stunning Cameron Diaz.
But Ewan, speaking on Radio 1, said: "I want Andrew, Danny and John to do a full- blown musical. I'm talking about one that is good to watch." Meanwhile, Cameron Diaz learned to decipher Ewan's accent by watching Trainspotting on video.
She said: "I kept rewinding it until I could understand what he was saying." Data treks off with pounds 3m deal Sci-fi hero Brent Spiner will pick up a pounds 3million paypoke to appear in the next Star Trek movie.
The actor, who plays yellow-eyed android Data, went to war with studio bosses after Patrick Stewart won a pounds 7million deal to return as Captain Jean-Luc Picard.
And he had threatened to pull the plug on his role unless they upped the cash.
But last night, movie chiefs revealed a deal had been struck.
A Star Trek insider said: "It's fantastic news. Data is as popular as Spock.
"You just can't imagine a new Star Trek movie without him." Work on the so far un-named film – the ninth in the series – is due to start after Christmas.
George is back in the rubber suit George Clooney, heartbreaker of ER, is ready to prove the critics wrong by pulling on the Batman cape for a second movie outing, it was revealed last night. in our site last night movie
Gorgeous George was so upset by the barrage of criticism he received following his debut as the caped crusader in Batman and Robin, that he was ready to hang up his codpiece.
But now he has beaten off challenges from Sylvester Stallone and Tom Cruise to take on Gotham City's villains in the fifth Batman movie, due out in three years.
And he is determined to make it a big success after the disappointing box- office draw of his first effort.
One thing that will change is the sheer volume of enemies -next time, there will be only one villain.
Top 10 Films 1. Kiss The Girls – Rape thriller with Morgan Freeman 2. Seven Years In Tibet – Brad Pitt in WW2 drama 3. Soul Food – Dinner drama 4. In & Out – Gay satire 5. The Peacemaker – Nuclear drama with George Clooney 6. Rocket Man – Disney's space mission comedy 7. LA Confidential – 50s cop drama 8. The Edge – Wilderness thriller 9. Most Wanted – War hero on the run starring Keenen Ivory Wayans 10. Gang Related – Corrupt cops tale, starring Jim Belushi and the late Tupac Shakur Star Trek legend William Shatner is to squeeze into his TJ Hooker costume once more.
Porky Bill, alias Captain James T. Kirk, has agreed to appear as a telly cop in Quentin Tarantino's latest movie, Jackie Brown.
In the movie – starring Robert De Niro, Samuel L. Jackson and Michael Keaton – a character will be shown watching the new TJ Hooker episode on TV.
But it's unlikely to lead to a John Travolta-style comeback as Shatner, who is rumoured to wear a corset over his bulging waistline, will only film a couple of scenes.
Hollywood heart-throb Alec Baldwin got his big break working in a GAY bar.
The actor, who is married to Kim Basinger, was spotted wearing satin shorts, socks and trainers in the club.
Alec was a 21-year-old unknown when he worked in Hollywood's Studio 54 bar.
He said: "I worked on the balcony. Gay men would come up and fondle each other then ask me to go downstairs and get them cigarettes." Dingwall, John; Fulton, Rick