Say Like the French "…and the cars go by"
by josh keller · Published · Updated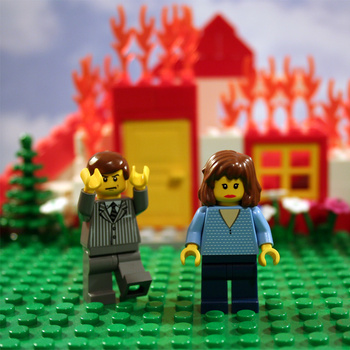 Say Like the French area local offshoot of the band Hunting Club, playing similarly earnest and ambitious pop music.  The songs built and crescendo, featuring choruses that are meant for stadium crowds and are as slick as could possibly be expected from a debut recording.  While it seems a little to pristine and dramatic for me, I could see big things happening for the band in the local scene and beyond, with their well heeled pop songwriting chops seemingly tailored for mass consumption.  The opening track "…and the car goes by" from their debut album This is Why We Can't Have Nice Things, nicely shows off the bands strengths and will be a good indication if this will be a band for you or not.  Listen to the whole album over at the groups Bandcamp page and if you like it you can buy the record straight from the band on the same page.
     -Josh
Mardi Gras madness
The Herald News – Joliet (IL) February 5, 2002 | Annie Alleman Even though we're 922 miles from New Orleans, we can still celebrate the most popular day on the Southern calendar. Dig out the beads and king cake recipe, it's time for Mardi Gras.
Mardi Gras, which means Fat Tuesday, will be Feb. 12 this year.
It falls early, but is always the day before Ash Wednesday.
In New Orleans, Mardi Gras is all about parades and pageantry, parties and pomp.
And food.
Lots of food.
Tracie Tobin owns Cafe Orleans, 500 W. Lockport Road, Plainfield.
The restaurant closed for daily dining in August, but is open for catering, banquets, bakery items and, of course, to the public for Fat Tuesday.
Tobin grew up in New Orleans and was once a Krewe Queen during a Mardi Gras parade.
Mardi Gras, she explained, has its origins in the Catholic faith.
"The Epiphany is Jan. 6, and that starts the Mardi Gras season," she said.
"It goes up to Fat Tuesday, and that's the day you pig out before Ash Wednesday." It's a day to go to excess before the sacrificial season of Lent starts.
One of the most popular and traditional Mardi Gras foods, Tobin said, is king cake.
"It's a constant at all the parties," she said.
"It's like a luscious coffee cake, with purple, green and gold sugars on it.
Those are the colors of Mardi Gras, and they symbolize power, faith and loyalty.
And there's a little (plastic) baby in there, signifying the baby Jesus, and whoever gets the baby must host the next party." At Cafe Orleans, they're still taking orders for king cakes, named such for the king of Mardi Gras and also for Jesus, the king.
In the past, the employees of Cafe Orleans have formed their own Krewe and done parades on Lockport Street, throwing doubloons (big, fake coins) and waving strings of colorful beads.
"Where did the beads come from? One theory I liked the best, is that New Orleans was supposedly a port city, and sailors — actually, pirates — would come into town, and to stop the pirates from pillaging and taking their women, citizens starting throwing shiny trinkets and coins to distract them," she said.
She's seen it all at Mardi Gras, first hand.
"I used to be in a Krewe at one time, I got into the Krewe of Thoths," she said.
"I was a maid one year and the queen the next.
That was in '76 and '77." Krewes are clubs that host parades — masked, of course.
They are masked at balls, parades and parties all year.
She tries to bring a little bit of New Orleans into Will County every year at this time, and will help others do the same. site king cake recipe
"You can do boiled crawfish with shrimp, potatoes and corn, and sometimes you can put sausage and hot dogs in it, too," she said.
"We always do a buffet here.
We do crawfish, catfish, and usually we do some traditional foods because not everyone's into it.
We'll have red beans and rice, fried okra, jambalaya and usually some kind of chicken." The restaurant will be open from 6 to 10 p.m. and they aren't taking reservations.
The tables are put together so no one has their own table, and the menu is strictly buffet.
Every so often, they've even have their own little parades, Tobin said.
Another buffet opportunity is at Joliet Junior College's Renaissance Center Restaurant and Banquet Facility, 214 N. Ottawa St., Joliet.
Every year, the culinary arts students prepare a Mardi Gras feast for anyone who is looking for a Mardi Gras fix.
The lunch will be from 11 a.m. to 1:30 p.m. Feb. 15. On the menu, said Susan Stockwell, Renaissance Center events and marketing specialist, is seafood gumbo, creole country ham, marinated pan-fried alligator, crab meat au gratin, occasion red beans and rice, smothered okra, eggplant and tomato, bourbon street chicken galantine, and shrimp and artichoke salad.
There's also a variety of homemade breads and desserts.
The JJC students are also making king cakes, and are taking orders for them through the week.
For a king cake, call (815) 280-2786.
At Milano's Bakery, 2019 Essington Road, Joliet, folks there are gearing up for Fat Tuesday as well, with their annual making of the Polish delicacy, Paczkis (poonch-kies.) Paczkis are just one of Mardi Gras pastry traditions.
It's a round, jelly-filled doughnut created in honor of Mardi Gras. Milano's fills their Paczkis with raspberry, prune, custard and other fillings.
Last year, said owner Mario DeBenedetti, they sold 5,000 Paczkis.
They also sell king cakes.
"King cakes are great, but people buy Paczkis to bring into the office," he said.
Cafe Orleans is also taking orders for king cakes.
Last year, she sold about 60 of them.
"We make a sweet dough and braid it, and put a filling of fruit, cinnamon, almond or cream cheese in," she said.
"Each cake is three breads braided together, and they come in small, medium and large.
We decorate them with masks and doubloons and beads." Shrimp Creole 1/2 pound fresh shrimp, peeled, deveined and washed 1/2 teaspoon sugar 1 bay leaf 1 small piece of bell pepper, cut fine 1/4 lemon 1/8 teaspoon sweet basil 1 1/2 cups water pinch nutmeg 1 1/2 tablespoons cooking oil 1 small piece of bay leaf 1 small onion, chopped 1/8 teaspoon red pepper 1 clove garlic, mashed 1/2 teaspoon cornstarch 1 cup whole tomatoes, fresh or canned A small amount of green onion 1/2 cup tomato sauce Liquid from boiled shrimp In a stew pan, add water, salt, bay leaf, lemon and shrimp.
Cook over medium heat. web site king cake recipe
When water comes to a boil, cover and cook 5 minutes.
Drain and reserve liquid.
Saute onion and garlic in oil until tender.
Add tomatoes, shrimp broth, sugar, and bell pepper, reduce heat and simmer 15 minutes.
Add sweet basil, nutmeg, red pepper and salt to taste.
Cook a few minutes more.
Make a paste with corn starch and 2 tablespoons water.
Stir it into the sauce; stir and cook until it thickens.
When ready to serve, add the boiled shrimp, parsley and green onion.
Serve with cooked rice.
Cooking tip: For improved flavor, cook shrimp, and make sauce, but do not add shrimp to sauce until ready to serve, chill. Source: www.louisianafoods.com/recipes/index.html Red Beans and Rice 1 pound dried red beans or kidney beans 1 large hamhock from leftover ham, or sausage 2 tablespoons margarine or ham fat 1 large onion, finely chopped 1 or 2 clove garlic, finely minced 1 teaspoon salt 1/4 teaspoon red pepper 1 small piece bay leaf 1/2 teaspoon oregano powder 2 large ripe tomatoes or canned whole tomatoes Pick and wash red beans.
In a large sauce pan boil 1 1/2 quarts water, drop in the beans, boil 1 minute.
Set aside until they cool.
Cook onion in fat until tender and add to beans, with garlic, hamhock, tomatoes, bay leaf, salt and pepper.
Cook over high heat, then reduce to simmer until tender, about 2 1/2 to 3 hours.
Take out hamhock, cut meat away from bone and add to pot of beans.
Add oregano.
Discard the bone.
Serve in soup plates over rice.
Tip: If using sausage, do not cook them longer than 1 hour.
If there are leftover beans, chill in individual servings and freeze. Source: www.louisianafoods.com/recipes/index.html Creole Green Beans 1/2 pound fresh snap beans 3 tablespoons bacon drippings 4 or 5 new potatoes, soaked in water with a little soda, then scraped.
1 small onion, chopped 1 teaspoon sugar 1/2 teaspoon salt 1/4 teaspoon black pepper 1 cup boiling water Combine all the ingredients in a small stew pan; cover with a tight fitting lid; cook over medium heat 5 minutes.
Reduce heat; cook about 15 minutes longer.
The beans should be tender crisp. Source: www.louisianafoods.com/recipes/index.html Mardi Gras Queen Susan Frick Carlman, a columnist for Sun Publications, will be Mardi Gras Queen at the Feb. 12 party at Cafe Orleans, 500 W. Lockport Road. Tickets cost $15 for the party with a $5 cover charge.
Carlman, a Plainfield resident, is also a reporter for the Plainfield Sun, which is a Hollinger publication. Mardi Gras recipes Annie Alleman