Arcade Fire: The Suburbs Review (Four Takes)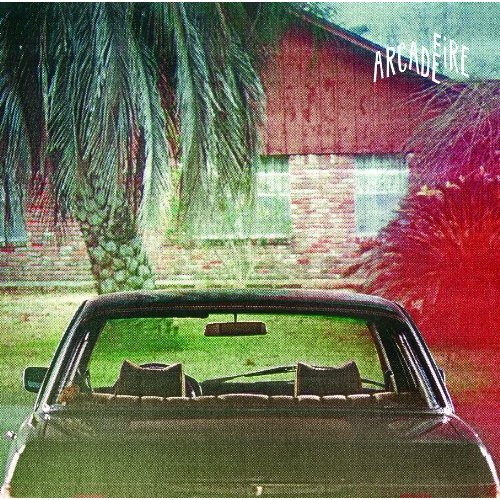 It can be difficult to gain a balanced perspective on an album after reading a single summary of the music. Bias can tilt a review, as can personal taste, history and just about everything else that is unique to the person writing it. So in an effort to offer an expanded perspective in such a medium, here are four reactions, four impressions, Four Takes on The Suburbs by Arcade Fire.

Kyle Matteson (More Cowbell)
96/100
Whether or not you hate them or love them, Arcade Fire will never be a band that people can fault for their lack of ambition or drive with a straight face, and The Suburbs only solidifies that. An album 3 years in the making and one that spans 16 tracks in just over an hour might have people trying to claim it's "bloated", but you could argue the same for The White Album, London Calling, Exile On Main St, etc., and I doubt any excess those albums might have, has had any measurable effect on their legendary status. Are there 2-3 songs I don't fully love on the record? Sure, but that's beside the point. This is their vision and their story and who am I to argue with that as long as I enjoy the overall product?
Musically the album is the band's most diverse effort yet, adding synths & electronic beats tastefully on a few tracks (most notably the Regine Chassagne led 'Sprawl II', which instantly recalls Blondie's 'Heart of Glass' or possibly even The Knife. The band may have forgone some of their stadium sized anthems (ie: Wake Up, Power Out, Keep The Car Running, etc.) for less subtle melodies, but there's still plenty of catchiness at times (Ready To Start, We Used To Wait). And the production on the album is certainly the most fitting to the band's sound of any of their 3 albums. It's still grandiose at times, but there's also some very sparse arrangements (Sprawl I) to keep it from being overblown.
On the topic of the albums theme/concept, I could probably fill a few pages with regards to just that or the albums lyrics, so i'll just keep it short and simple and say that I'm finding new lines I love with every listen.
I have a feeling that this album might be polarizing for a few folks (esp. those who have always found them overrated), but for someone who has been a huge fan from the start, yet who was a bit let down by their last record, 'The Suburbs' has totally surpassed any lofty expectations I might have had and is certainly one of my favorite records in a year of a ton of already great albums.
(Kyle also runs arcadefire.net)
Josh (Reviler)
91/100
Funeral was the album that felt like electricity was pumping through your veins, being young and hungry and ready to take on the world. Neon Bible was that first realization the institutions you loved and trusted may not be the comforting domicile that you thought they were. Suburbs, the third and latest album from the Arcade Fire, is farther down that road and is the doughy center you that has reached most of the goals that society sets out for you, only to find yourself in a place you never really wanted to be.
Lyrically, many bands "grow up" over time, but the whole sound of Arcade Fire has feels like a process of maturation. Not only are songs like "City With No Children" and "We Used to Wait" melancholy and subdued in their lyrics, the whole musical timbre of the record reeks of disillusionment and a helpless feeling of "this is it?" One of the most telling moments of the album is hearing Win Butler sing "I used to think I was not like them, but I am having my doubts, my doubts about it." That fear of conformity and disbelief of seeing what yourself, and the world, has become is a theme that haunts this album. For someone in their mid twenties who is figuring out there place in the world, songs like "Modern Man" and "Sprawl II (Mountain Beyond Mountains)" sound more than good songs, they sound like a soundtrack to a realization that the youthful ambitions that albums like Funeral helped soundtrack might be as realistic as the mundane middle that life offers the vast majority of people. Luckily, no matter where we end up, we have a band as amazing as Arcade Fire to help create the sounds for each step of the way.

94/100 
"My old friends were so different then/ Before your war against the suburbs began
My old friends I can't remember when/ You cut your hair, I never saw you again" 
At an epic 16 tracks, there is plenty to discuss and extract from Arcade Fire's third full length release The Suburbs. You know, I hate to be 'that guy' who is dead set on riding his fixed-gear on the highway of pretensions to hipsterdom, but I'll just go out and say it: The Suburbs will be one of the best records released in 2010. There's a reason why Funeral is regarded as one of the best post-millennium indie albums to be released. And after soaking in The Suburbs as much as I could before writing this review, I think Funeral is so important in that it is the roots that the Canadian band used to build The Suburbs, the album that could very well be their best yet. I, for one, thought Neon Bible was an incredible album in its own right. But I could also see how fans may have felt alienated that it was the follow-up to Funeral. It was darker and it piled a few more layers of weird on the table. The Suburbs, on the other hand, is an album full of life and promise and wonder. While death and destruction have been pivotal driving forces in their previous releases, The Suburbs treats those ends with an off-handed arrogance and admits outright, "Hey, wake up, today is not the day we meet our maker. Live in the now!"  
As much of a treasure I think The Suburbs is, at 16 songs and an hour long, it really is kind of daunting. But the hallmarks that have made Arcade Fire the provisional Godfathers of indie rock are all here. Win's nostalgic and autobiographical lyricism, rich string arrangements and booming gang vocals are all present.   Fans will have no problem feeling right at home with this album. There is no obscure trickery or shifts in overall sound – just a great modern rock band making one of the best records of their career. Some might say they are playing it safe, but those people probably still whining about how Contra is the best album to be released this year.  And, well, those people are just plain wrong. If one thing is constant about Arcade Fire it is that Win Butler remains one of the more gifted lyricist in music today. Whether he is obsessed with death ("Funeral") or anxious about the apocalypse ("Neon Bible"), he has an incredible way of conveying emotions – pain, longing, love, and redemption – better than anyone. The lyrical content is locked in the album's title and sees Win belting out memories growing up alienated in suburbia – memories passed on from box full of dusty photographs long forgotten.  
The songs, and Arcade Fire, have never sounded this fresh and inviting. There are glimpses on The Suburbs that could have fans getting anxious that their biggest kept indie secret will probably break through to massive radio play, and for good reason. Tracks like the classic-rock-leaning "Modern Man" and the easy-going "Wasted Hours" are certainly in this vein. One of the album's more pleasant surprises is seeing Regine taking full reign on tracks like the pounding freight train string arrangement of "Empty Room" and the synth-driven, 80s banger "Sprawl II (Mountains Beyond Mountains)." There are also the traditional Arcade Fire build-it-to-the-sky tracks like "Suburban War," "Ready To Start," and "Half Light I." And maybe because they chose to release it as one of the first singles to the album, I ended up not really digging "Month of May" –and it threw off the flow of the album sandwiched between "Suburban War" and "Wasted Hours." I will also have to mention one of the more memorable tracks in "We Used to Wait." As a whole, these are the best collection of songs the band has released.  
So, before I ware out my welcome even more with this long-winded take, I'll just let it speak for itself and say one thing, and one thing only: 
Listen up.

Jon Behm (Reviler)
90/100
The Arcade Fire has pulled it off again – three LP's down and nary a dud. The Suburbs is everything we have come to expect from the indie darlings: bleak imagery, lushly layered instrumentation, as well as highly evocative lyricism. Still, it does have a few surprises. While Win and William Butler earlier forecasted elements of Depeche Mode and Neil Young in the new sound, Young's classic rock/folk influence is much more difficult to pinpoint (except notably in "Suburban War"). It's the post-punk/new wave sound that makes itself felt throughout Suburbs, particularly when the band channels Billy Idol in their upbeat rockers like "Empty Room" and "Month of May."
In their recent interview with NPR, the Butlers expressed some hope that fans might find the material on The Suburbs a little "happier" than in their other albums – which is surprising considering that most of the new songs are grimmer and more depressing than anything the band has done previously. Inspired by Houston's suburban spread (the word "sprawl" is evoked several times with ominous dread) The Suburbs is filled with harsh apocalyptic imagery and tension filled-lyricism, even as the band appears to be making an effort to be more upbeat.
Still, depressing or no, there is a lot to love here. Titular "The Suburbs" is simply lovely with its images of crumbling civilization over a barrelhouse piano beat. "Rococo" is Arcade Fire at their finest "classic" sound, slow building tension over gorgeously fluttering violin. Both "Half Life" I and II (No Celebration) are also utterly terrific – though the former does actually sound like it ripped off DeVotchKa's equally lovely "How It Ends."
Long story short, people will doubtlessly love this record and the Arcade Fire legacy will chug along in its bid to become the next Radiohead. Haters won't find anything to like and lovers will see themselves justified. The world will continue to turn even though The Arcade Fire has already written the soundtrack to its end.