Freddie Gibbs: Str8 Killa EP Review (4 Takes)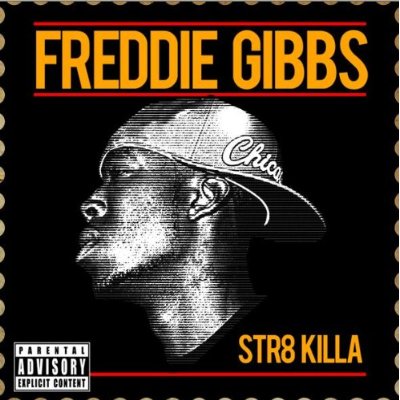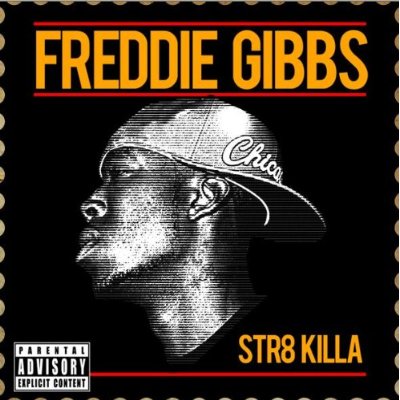 It can be difficult to gain a balanced perspective on an album after reading a single summary of the music. Bias can tilt a review, as can personal taste, history and just about everything else that is unique to the person writing it. So in an effort to offer an expanded perspective in such a medium, here are four reactions, four impressions, Four Takes on the new live album Str8 Killa by Freddie Gibbs.

Jon Jon Scott (Sound Verite)
78/100
Gary, Indiana is a very impoverished patch of land just outside the Chicago's Southside. The former factory town has been hit hard by the economic downturn, for like the last 30 years. So when rapper Freddie Gibbs spits hard for his city, he knows what he speaks. Freddie Gibbs has a straight hard-core flow, part triple-time, part street narratives. Gibbs was once signed to Interscope back in 2005, and like many an artist he never saw a release date. In 2009 Gibbs star began to rise as he released a two authentic street burners with the mix-tapes The Miseducation of Freddie Gibbs and Midwestgangstaboxframecadillacmuzik. Both were refreshing in their urgency and reminded many of Tupac and to a lesser degree Nas. And more recently Gibbs released Str8 Killa No Filla, a raucous 21 track opus that solidified his entry from underground thespian to legit contender for the hard-rock crown.
The eight-track mini Str8 Killa ep is Gibbs official commercial release. It is interesting how short it is, considering the amount of material he has. Opening with the the title track "Str8 Killa No Filla", Gibbs shows the raw emotion that captured glory in XXL , New York Times and Pitchfork. With a voice that's stark, and smokey, Gibbs paints pictures of urban decay, selling drugs, robbing drug dealers and his love for game. "Five shots to the face that'l do it". He hooks up with West Coast rookie Jay Rock on "Rep 2 Tha Fullest". On the slow rolling street hit "National Anthem (Fuck The World)" , Gibbs spits on absentee fathers, the dope game, the rap industry and suckas in general "Playa Hatas, fuck em/ record label fuck em/ radio fuck em/ oh my shit will still be bumpin".Another slow joint and a standout track is "Personal OG", where Gibbs celebrates that killa weed. The confessional "Live By The Game" follows Gibbs as he "be hustling and strugglin'". Gibbs shows he can hold his own while "goin' in circles man" alongside OG Bun-B on "Rock Bottom". The most interesting track, musically is the hipster closer with the Cool Kids, Black Keys supported "Oil Money" featuring Chuck Inglish, Chip Tha Ripper & Dan Auerbach (Black Keys). Repping the Midwest hard, Freddie Gibbs is here bringing back good ol hardcore rap, get ready to hear more drama from Gary, IN. Hopefully Gibbs will have more to say on his full length.


Ali Elabbady (Background Noise Crew, Egypto Knuckles) 
91/100
Mention Freddie Gibbs, the native of Gary, Indiana, and you can be told by the blogosphere numerous times over, that you won't hear another like him.  His tales of what he's seen and what he's lived are not cut from different cloths, they are all contextually interwoven tales of a man raised by his surroundings, and how a shadier underworld unleashed him on the rest of us.  So to say Str8 Killa is an EP cheapens what Freddie brings to the table a great deal, his metaphors are matchable to any current hot rappers of the moment, his voice is reduced to a blood curdling simmer, unleashing near demonic fire on choruses and letting loose to a point of no return on any flow you throw his way with clarity and consistency.  Need proof? Hear it in "Personal OG," or even to keep it current, take a listen to "Live By the Game," or how him and Bun B match pound for pound on "Rock Bottom", and you'd be wondering the same thing;  why did even forget about Freddie in the first place? 

Kyle Myhre (Guante Official Site/Twitter)
70/100
After one listen, only half-paying attention, I was ready to talk about what a generic-ass gangsta rap album "Str8 Killa" is.  And to some extent, it is.  There's not really anything here you haven't already heard on a hundred UGK, Bone Thugs or Young Buck songs.  But upon subsequent listens, the album's strengths become more apparent.  After all, originality is only one piece of what makes something good, and if you're one of the people who really enjoys generic-ass gangsta rap (like a drug dealer or a music blogger), Freddie Gibbs does it as well as anyone.  "National Anthem (Fuck the World)" is definitely the short album's highlight, a heartfelt track displaying Gibbs' vicious double-time flow.  The other songs are variations on the theme, and though the beats aren't anything special and a few tracks drag on too long, Gibbs is a charismatic and talented enough rapper to make everything work.  The third verse of "Rock Bottom" is a pretty legitimate blackout, and he kills the brooding, simmering posse cut, "Oil Money."  In the end, however, the album is still hindered by it s lack of ambition.  At any given moment downtown, there are a dozen guys selling CDRs that sound an awful lot like this—no, they're not as good, but they're in the same lane.  Whether or not you see that as a negative will probably determine how much you enjoy this album.

Paper Tiger (Doomtree)
74/100
I think there is something to be said about Gangster Rap
A) It can be awesome
B) To be awesome it needs to feel legitimate (e.g paint a picture that is entertaining and yet terrifying)
To preface this review I must admit I am a fan of Freddie Gibbs, ever since my friend Matt Fight put me on last year. It should also be said that I don't ever want to meet F Gibbs, as he scares the shit out of me.  
Str8 Killa is the latest mixtape by F Gibbs.  It is a short set of songs with many guest appearances paired with synthy, hard, drum-hitting beats.  The beats are on par with what Gibbs has worked with in the past–nothing next level.  But with Gibbs it's all about the spitting.  While I do not subscribe to many of the things that Gibbs raps about (mostly the blatant and almost celebrated misogyny that is so common with gangster rap), I admire his abilities as a rapper.  After a few listens, I was able to identify the theme of this record–times are tough and if you try and make them any tougher I will fucking kill you and not really feel anything about it.
Real Talk.
 
Here's a brief overview, track by track, of what's going on with this record.
1. Str8 Killa No Filla (Feat. Big Kill) 
A very fitting but super simple synth beat filled with descending snare rolls. Gibbs raps his ass off about his typical day-to-day.  Bill Kill sounds like Dave Chappelle doing Tyrone.
2. Rep 2 Tha Fullest (Feat. Jay Rock)
Another simple, sort of unimpressive synth beat.  Gibbs has very nice patterns, talking about the GI, (Gary Indiana, Gibbs' home town).  I could do without Jay Rock on this track.
3. National Anthem (Fuck The World)
As it states in the title, this is the anthem track of the record.  Starts out very simple, kick + snare, a strange string loop.  Gibbs is hitting the double-time patterns that the beat doesn't really matter. Then the chorus hits and for the first time ever I said " whoa is Gibbs singing?" Indeed, still gangster as he screams "Fuck the World!"
4. The Coldest (Feat. B.J. The Chicago Kid)
I am pretty sure this is my favorite beat on the record, melodic, but kind of brings back a little early 90's west coast vibe. As well the singing hook on this track sounds like some top 40 Blackstreet song when I was in high school. Gibbs mentions in a few ways about how he is the coldest and keeps it really real.
5. Personal OG
Probably my least favorite beat on the record, just boring. It's sort of an introspective piece mostly about how he likes smoking weed and is also a straight G.
 
6. Live By The Game
Kind of a cool beat, a bit more going on than usual for Gibbs, lots of crashy hits, but somehow a bit of a R&B vibe. Another singing hook, about the hood and how you have to live by the game or in fact die by the game. Nice one Gibbs.
7. Rock Bottom (Feat. Bun B)
I am pretty sure I heard a shoutout to K-Salaam in the intro to this song, word up nice on K!
Gibbs hits patterns again, a nice singing chorus about how shit is basically fucked.
Then Bun B!!!  I am a fan of Bun B and this was a nice surprise.
8.  Oil Money (Feat. Chuck Inglish, Chip Tha Ripper, Bun B, Dan Auerbach)
A crew track with many guests. Very simple beat with a few piano stabs, some organ, but the chorus is sick, reminds me of Gnarls Barkley.
Again, we got Gibbs and Bun B (good combo), plus a few others that I'm really not mad at on this track.  This is a contender for fav track on the record for sure.