Toro Y Moi: Anything In Return Review (3 Takes)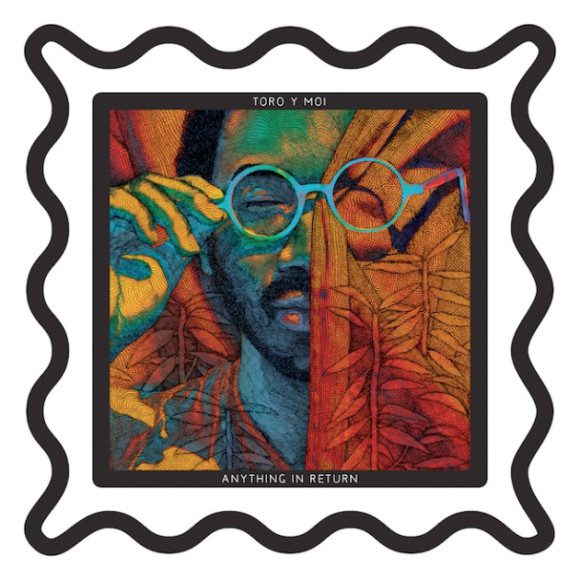 It can be difficult to gain a balanced perspective on an album after reading a single summary of the music. Bias can tilt a review, as can personal taste, history and just about everything else that is unique to the person writing it. So in an effort to offer an expanded perspective in such a medium, here are three reactions, three impressions, three takes on Anything in Return by Toro Y Moi.

Jon Jon Scott(Sound Verite)
Referencing many genres, including the galloping grooves of house, the bedroom production of chill-wave, and rather cool pop, Chazwick Bundick (aka Toro Y Moi) produces a multicultural lollypop.
Opening with the lightweight house workout "Harm In Change", things get off to a decent start. The dance groove continues on the mid-tempo flex of "Say That". The jewel here is "So Many Details", which slows down to a bedroom jump, with vocals just behind the beat. "I just want to tease your eyes, I just want to go inside". He almost does a Dam-Funk with repeated looped vocal "what happened to us" – which sounds super cool. Although he has dabbled with actual R&B, covering the slow jam classic "Saturday Love" by Cherrelle & Alexander O'Neal, he's best at not going there. The nice thumping basslines of "Rosa Quartz" sounds like the background music at Abercrombie & Fitch. There's a few fine moments with "Cola" and "High Living". Then there's "Cake", which is a disaster. This is followed by "Day One" which has a nice flourish before "Never Matter", a throwaway funk slab. He closes with "How It Wrong", by which time you've likely fallen asleep.
As its title "Anything In Return" suggests, any good here is enough. There are moments in the front of record that suggest a spirited journey before descending into Pet Shot Boys minus the hooks and detail. It seems Toro y Moi simply has fun making non-committal music, slashing and slightly burning through a few genres of mainly dance and pop stylings that make for an evening of faux chill-out music .
Ali Elabbady (Background Noise Crew, Egypto Knuckles)
Chaz Bundick likes making music.  That should be the clear and apparent statement when one takes a listen to Anything In Return, his third effort as Toro Y Moi.  Listening to his music, there's a lot of gems to be found on the new album such as the frantic and rhythmic "Harm In Change" and the house influenced, head-nodding "Say That" (which has a surprise rap verse!).  On Anything in Return, there's a lot of progress to be found from Bundick in terms of melody and arrangement, which features is a very welcome shake-up from the more low key sounds of his stellar sophomore album, Underneath The Pine.

Josh
I have had sympathy for Toro Y Moi (Chaz Bundick) as he has fought valiantly to shed the "chillwave" label he helped usher into prominence, mercilessly shifting from one form to the next to rid himself of the genre albatross.  His electro-funk makeover started live a few years back, bringing the more colorful, bass heavy flavor to the forefront of his sound.  In the studio, he ventured outward on the more dancy Freaking Out EP before stepping back a bit with the more ambient LP Underneath the Pine.  While I can't say I have found his trajectory always on the upward slope (more zig zag), at least he isn't releasing the same record over and over again.  On his latest LP Anything in Return, he seems to split the difference on the sounds from his first three releases.  Many of the songs have a slinky bass line that woozes out from under the synths,  but the general feel of the record is the kind of low key haze that first brought him into our stereos. There are house grooves pushing the songs forward, but tracks like "Harm in Change" and "Rose Quartz" don't quite make it to the 100% Silk level of energy, withdrawing themselves into the shadows of minor keys and Bundick's weary (yet pristine) vocals.  I think Toro Y Moi has made some great music over the last few years, but the project is beginning to feel a bit like a wandering soul.  Like Sufjan Stevens, he is a talented artist who seems to feel the seven year itch about every two months, for better or for worse.  Anything in Return is another wrinkle in the Toro Y Moi "sound," a fuzzy picture that hasn't really come into true focus yet.  He is still a young guy, so hopefully he can slow down enough to take the best pieces of his repertoire and make a standout LP in the coming years.  Anything in Return isn't that album, but like his previous releases, it has more good than bad and is enough to keep me on the bandwagon with my fingers crossed that the stars will align in the near future.