Graham O'Brien: Live Drums Review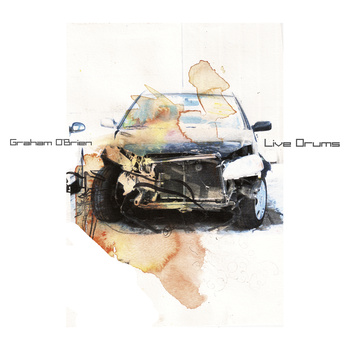 81/100
Like the debut LP from Doomtree's Paper Tiger, Made Like Us, the debut record Live Drumsfrom No Bird Sing drummer/producer Graham O'Brien showcases an artist best known for their work with the local hip hop scene branching out to DJ Shadow-esqe soundscapes on their solo debut. 
Like Made Like Us, Live Drumsis broken into a few sections musically, each showing off O'Brien's talent at different genres of music.  As mentioned before, a solid chunk of the LP is based around the kind of melodic, tripped out instrumental hip hop that was made famous when …Entroducing hit the scene.  O'Brien also throws in some classic hip hop with some of our local talent spitting rhymes over his really solid, funky beats.  Guests include Eric Blair of No Bird Sing, Kristoff Krane and DVS, who each bring their unique flows to their tracks and showcase O'Brien's talent in producing beats.  The outlier is the track "Wolves in Milwaukee Remix" featuring Adam Svec (it was his song) and No Bird Sing, which sound like Radiohead circa Kid A and Amnesiac.
The overall feeling of the record is technical but chilled out.  Even on the more bombastic tracks (generally the ones with rappers), there is a smoky, devil may care tenor that makes this a great headphones record. While I try not to parrot press release talking points, I think O'Brien did well in describing his sounds as "resonant, saturated, distorted drums – performed live over dissonant and textured sample soundscapes." No need to reinvent the wheel, right?  The album is a strong solo introduction to an artist already well known in the scene, albeit for more behind the scenes work in the hip hop community.   After Made Like Us and now Live Drums, one has to wonder how many other talents artists are hiding out behind the scenes in our rich and diverse music scene.
     -Josh
Graham O'Brien Bandcamp Page