Cloudland Canyon: Fin Eaves Review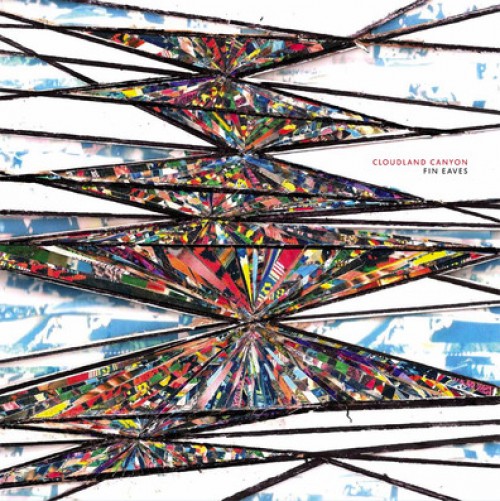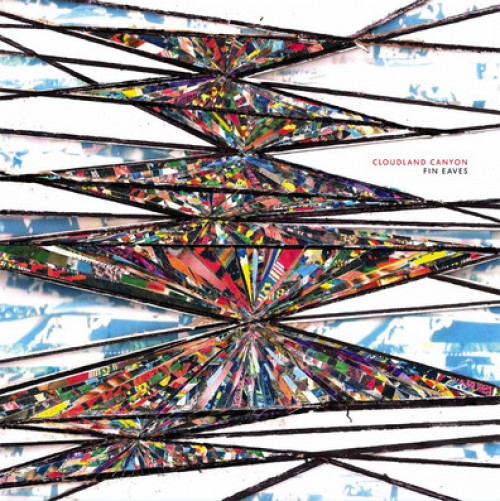 82/100
Having missed out on experimental band Cloudland Canyon's past ten years of existence, my primary exposure to the duo is in their third full length release Fin Eaves.  Upon recently discovering them, the first thing I noticed is that half of CC is King Khan and the Shrines' Simon Wojan (the other being Kip Uhlhorn of Panthers/ Red Scare)**.  While both of CC's member's past/present bands have merit, I have to fully disclose that I am a fanatical King Khan and the Shrines fan, so consider my bias acknowledged.   The second thing I noticed (ok this may have actually been first) is that the group's name sounds like a bargain bin white zinfandel.
However whatever cheap wine/German garage expectations I had when delving into Fin Eaves, they were quickly usurped by a sound unlike anything I was expecting.  Fin Eaves is nine tracks of extensively dense, thoroughly weird, psychedelic noise.  It starts with a mellow, low-fi-ish dreampop jam "No One Else Around," that features droning guitar and vocals, both of which are so fuzzed out its hard to tell where one ends and the other begins.   And on top of that base layer is sprinkled a swirling mix of electronic effects and tambourine, while underneath a throbbing bassline keeps the rhythm.   Each track blends in to the next with "No One Else" seamlessly fading into the titular, minute long come down before ramping the noise back up for album standout "Sister," which more than any other track attempts to affect melody using a disparate array of sources (bass, vocals, effects) that come together nicely into an ethereal, yet intense listen.
Fine Eaves continues along a similar tack for the subsequent six tunes, adding some synthesizer blasts in Gracious Hearts," actual discernible vocals and a mellow, Can-inflected psychedelic drone in "Pinklike," but never really ventures far outside the duo's established aesthetic.   To say that Cloudland Canyon's music isn't daring would be a fallacy, though at times the sound is so methodically processed and saturated with reverb that occasionally it feels a little too consistent for its own good.   Still, that effect can be negated to a certain extent with a good pair of headphones that allows the listener to really delve into the intricacies of the sound that might not be apparent otherwise.   While listening on my car speakers, for instance I didn't at first fully realize the pop inflected tendencies of "Yellow Echoes."  The delights of  "Narc" on the other hand, remained lost to me though even in a very close listen.  Headphones or no though, you don't really have to listen that heard to realize the brilliance of both halves of "Mothlight," especially "Part 2,"which actually comes first and features a chantlike drone over gorgeously fluttering guitar and fuzzed out krautrock rhythms.
Cloudland Canyon may sound like a cheap wine, but the band's rich, expansive sound is definitely top shelf.
— Jon Behm
(**Editors Note: Cloudland Canyon is apparently no longer a two piece, Fin Eaves is primarily a Kip Ulhorn recording**)
Cloudland Canyon – Mothlight (Part 2)
Cloudland Canyon:          Myspace
Fin Eaves will be out on 9/7 on Holy Mountain Records
.