Introducing: The Dog and Tony Show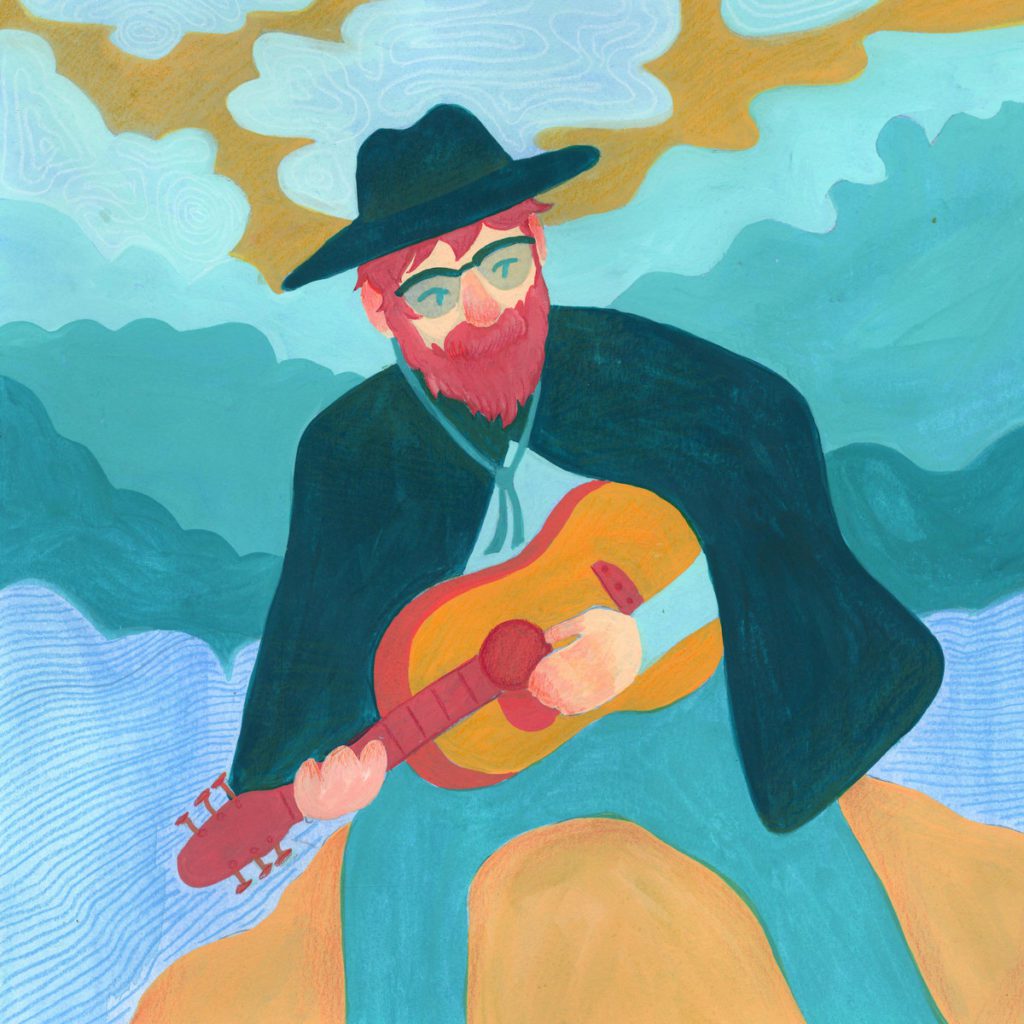 As the weather has warmed this Spring it has also kicked off the time-honored Midwest tradition of burning stuff in backyards. It was in years spent around the campfire where local artist Tony Thomas honed his singer/songwriter skills after nearly giving up on the craft around 15 years ago when the last of his projects/bands called it quits (Five Easy Pieces, Man Afraid, and Anchorhead to name a few). 
The seasons playing to a small group of friends is apparent in Thomas's first recorded material as Dog and Tony Show.  His Colorful Dream EP has an easy intimacy that attests to time spent with no other backing band than the crackling of flames and the wind in the trees. Even in the studio with amplified guitars, backing vox, and percussion, it's hard to imagine these songs being belted out, say, before a crowd of thousands. 
The overall intimacy is the thread that holds Colorful Dream together but otherwise the sound actually varies quite a bit from tune to tune. While overall a folk-cum-country record, Thomas explores quite a bit within that spectrum. The Neil Young comparison is probably the most prevalent, both in the timbre of Thomas's vocals as well as the occasional forays into a country-rock guitar sound. In fact, given Young's long-standing association with "rust," I'd be surprised if the EP's (standout) single of that name wasn't at least in some ways something of a tribute.  
There's also some touches of pop-folk that could come from anywhere but, at least to my mind, brings up memories of bands like the Jayhawks. Like Gary Louris, Thomas has a talent for finding a solid hook and putting his own unique signature on it.  
Lastly there's a traditional finger-picked acoustic sound that shows up in tunes like "Mower County Line." It's not hard to imagine the tune coming from someone like a Bob Dylan or a Townes Van Zandt, and would likely be categorized as either folk or country accordingly (but in reality draws back to an era when there really wasn't any such distinction). 
You can stream and purchase Colorful Dream via the link below. The EP was self-released just a few days back, and in addition to Thomas there are also contributions from Andrew Bartleson and Brandon Sullivan (drums) as well as Sophie Warrick (violin).  Co-production credits go to Joshua "Stook" Stuckey, Joshua Hill Lemon, Nick Pyper-Holz and Todd Holdman.
Thomas doesn't have a release show planned as of yet, but hopefully will soon. For the time being to hear Colorful Dream in the flesh you might just need to be lucky enough to encounter Thomas across the flames of a Minnesota campfire. 
Additional links:
Dog and Tony Show on Instagram