Fresh and Onlys: Play it Strange Review (Four Takes)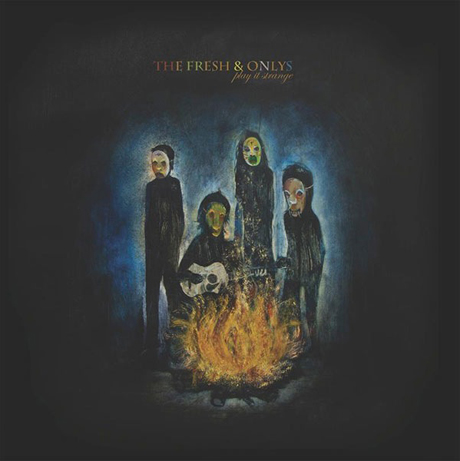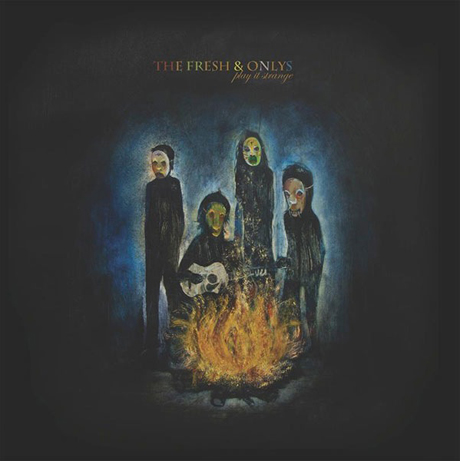 It can be difficult to gain a balanced perspective on an album after reading a single summary of the music. Bias can tilt a review, as can personal taste, history and just about everything else that is unique to the person writing it. So in an effort to offer an expanded perspective in such a medium, here are four reactions, four impressions, Four Takes on Play it Strange by Fresh and Onlys.

Chris Polley (PRGHS)
67/100
The Fresh & Onlys are a band that have for the past year or so existed in what I tend to call "the indie ether." They've kind of effortlessly floated in a hazy space occupied largely by bands that pop up out of nowhere with a large amount of record reviews and blog posts not because they're particularly notable or unique, but because they're on a label that is equal parts prolific and reliable. Woodsist was the label for their 2009 breakthrough release (and I'm using the term "breakthrough" in literal terms here, as it was the record that got them into the indie crowd's wheelhouse) and In The Red is the label for the new release. The former also gave us mildly enjoyable but largely forgettable (though this never precluded them from critical acclaim) bands like Real Estate and Crystal Stilts. Add The Fresh & Onlys to the bunch and you have a bunch of songs with curious textures but that's about it. It's straight line retro music that is inoffensive and bland. Joining the In The Red team is a step up because it places The Fresh & Onlys amongst some talent that is still predominantly straight line retro (this time more narrowly focused on the garage scene) but at least it's brash and attention-seeking, such as The Dirtbombs and The Strange Boys. All this reductive labeling (pun intended) aside, the new Fresh & Onlys record is still nothing that makes them a must-listen unless you're a dedicated In The Red enthusiast, but at least it sounds like they're trying more on a few specific tracks. The main melody of "Fascinated" is downright inspired in its infectiousness and "Be My Hooker", despite it blending in with the other tracks, is a wonderful name for a song. It's more music that doesn't stand out and just kind of wafts amongst the indie ether because of the label it's on, and while that's not necessarily a bad thing, it's also not really anything to write an overly long paragraph about. Woops.

Jon Schober (Radio K)
95/100
For the people who know me well, it is common knowledge that The Fresh & Onlys are just about my favorite band ever, a group I only came to know after I was given the album to review at Radio K when I was a new volunteer two years ago. Then I managed to see them at the Woodsist showcase in Austin this past year for SXSW, and as my suspicions were confirmed, their live show is just as solid as anything they have ever put out.
These guys are pretty prolific. Is this the third album in just 1 ½ years? It's insane how many ideas they have brewing in their heads and how they manage to transgress any genre boundaries they might be accused of. Their self-titled debut was grunge pop, Grey-Eyed Girls moved straight into the realm of pure, brooding garage rock, and this new effort Play It Strange is total up-tempo nostalgia. The album starts with arguably the best two songs they've ever done and ends with two of the next best songs they have ever done. Lead single "Waterfall" in particular is one of the purest hooks you will ever hear and closer "Red Light Green Light" is made special with some almost indistinguishable features, whether it be the women chanting in the background during the chorus, or that southern siren sound exploding out of the reverb. The middle of the album is slightly muddled- it might be the almost 8-minute "Tropical Island Suite" which comes early on, a true "gotcha" moment to fans who thought they could never make a song longer than 3 ½ minutes. That being said, their material is more succinct in the shorter format.
As always, this band never fails to make an album full of gorgeously executed rock songs, and if you don't start moving or dancing at their show with Clinic in November, I don't know what will.

Adam Bubolz (Reviler)
65/100
The Fresh & Onlys come from the fertile garage rock scene of San Francisco, alongside of bands like Thee Oh Sees, Sic Alps, Sonny & the Sunsets and many more. After a handful of Eps and one full length, Play It Strange is their first full length for legendary label In The Red.
The opener "Summer of Love" starts out kind of dull, leading into the next tracks which kind of pick up the pace. The album really gets to the point it wants with the pounding "Tropical Island Suite" which drives itself into a noisy crescendo before it's hazy coda. Other standouts include the almost spaghetti western sounding riff opening "Plague of Frogs". The album closes on it's slowest number "I'm A Thief" which sort of steals its bassline and melody from Little Peggy March's "I Will Follow Him".
Once in a while, the band hits the mark, but overall Play It Strange fails to be memorable. The vocals seem to follow the same pattern most of the time and the band never really seems to open up like they do at times. After at least 3 Eps so far this year, the Fresh & Onlys could benefit from a little bit of self editing.

Josh (Reviler)
77/100
Coming from a vibrant west coast garage rock scene (Ty Segall, Thee Oh Sees, Sonny and the Sunsets, etc), the Fresh and Onlys have consistently put out great records over the last few years while still riding under the radar. The group hopes to break that cycle (at least the under the radar part) with their latest LP, Play it Strange.
The funny thing about the title of this record is that I would actually use it as a statement if the band asked me what they could have done better. While the album is still really good, from the poppy 1-2 punch of "Summer of Love" and "Waterfall" to the demented surf rock of "Until the End of Time," the sound on Play it Strange is the most polished and straightforward from the band yet. Highlights included the nearly 8 minute jam "Tropical Island Suite" and the nostalgic "Fascinated."
The whole album is solid (as everything they have done so far has been), but I can't help but feel the extra layer of shine actually takes away from the groups usual garage rock swagger. While it isn't my favorite output by the band, it still is really solid and I really do hope it exposes them to a bigger audience.
Fresh and Onlys Myspace Catch the band on 11/12 at the 7th Street Entry with Clinic