Wolf Parade: Expo 86 Review (4 Takes)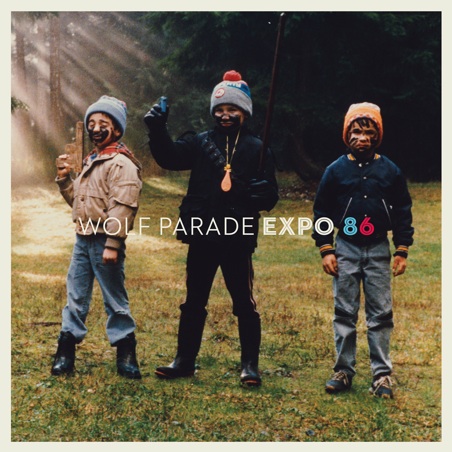 It can be difficult to gain a balanced perspective on an album after reading a single summary of the music. Bias can tilt a review, as can personal taste, history and just about everything else that is unique to the person writing it. So in an effort to offer an expanded perspective in such a medium, here are four reactions, four impressions, Four Takes on Expo 86 by Wolf Parade.

Chris Besinger (STNNNG)
24.88/100
I think this is supposed to mean something, the way Big Country or Arcade Fire are supposed to mean something, but it lacks any sense of urgency, despite trying to whip a little tempest of drama and as to what they are on about, your guess is as good (or probably better) then mine. First song in I was trying to place what the music reminded me of, but I couldn't put my finger on it (other then I thought the singer dude sounded like Mike Wisti, kind of). The music was ok, nothing terrible, kind of that 80s-ish indie rock stuff that's going around now, but nothing horrible. Of course, once the tunes were over I couldn't recall much about them, lacking any real defining character. I couldn't tell if the lyrics were good or bad on purpose or just plain bad. Second tune it hit me, "oh man this sounds like Interpol", dude's voice even has that same vacant-ness to it, smothering the rest of the music. Four songs in a row go by and they all sound pretty much the same, a lot of bells and whistles (synth) but like okay so what? "I took my meals on wheels" definitely deserves some kind of worst lyric of the year so far award. The first five or six songs here all sounded the same, same tempo, about the same length (between five and six minutes, ugh), same brain-dead delivery, same monotony. By now, I had long since gone from thinking this record was ok to think it was just god-awful. When the record does actually get around to kicking up a sort of drama that they've been trying for the whole time, "Nobody's Perfect" its over half over and it's the most rock tune yet, there's a guitar solo and everything, for shame dudes. Some of the songs on the back-half aren't bad in comparison to what came before, at least they mix up the delivery a little bit. Some full-on fey synth disco stuff, more 80's throwback, general artiness and more bad lyrics, frankly though I'm pretty sure people already have decided if they like this or not. Me, no thanks. And the song titles are dumb.

Howard W. Hamilton III
88/100 (Red Pens)
This record is a bit more goth sounding than the earlier Wolf Parade records, imagine instead of sounding like Arcade Fire this album sounds a little more Interpol. I read it was recorded live to tape with only the vocals overdubbed which gives this whole affair a nice intense live feel. A little more manic than previous WP releases Expo shows tons of growth and the bands insight to write songs that would be fun to play live. Overall I would say if you love their other albums this one is going to knock your socks off, new listeners working backwards will find the older albums a tiny bit less noisy and crazy. This album cancels out their earlier work and puts them in a fresh new place.
JH (Reviler)
86/100
Wolf Parade sound more Manchester than Montreal on their third full-length, Expo 86. The base line / synth interplay that runs throughout the heart of the album – on tracks such as "Little Golden Age," "In the Direction of the Moon" and "Ghost Pressure" – evokes Power, Corruption & Lies-era New Order. Yet the final sound is something far more bouncy and bright than that comparison would suggest, even when the lyrics are about nightmares or broken backs.
The songwriting feels more cohesive than on either Apologies to Queen Mary or At Mount Zoomer. From the first track, the hooky "Cloud Shadow on the Mountain" to the ebullient, dare-you-not-to-sing-along, closer "Cave-o-sapien," it feels more like Krug and Boeckner got together and wrote an album and less like they decided to take turns on alternate tracks. And fans who were somewhat alienated by the noise and disarray of their last offering, will welcome the hooks and the straight-ahead beats of what is bound to be one of this summer's most fun albums.

Josh Keller (Reviler)
87/100
Wolf Parade's latest effort, the driven and focused Expo 86, is really great and serves as a reminder of how great the group really are, especially after their uneven sophomore album. As the group has progressed, the sounds of the two songwriters (Spencer Krug and Dan Boeckner) have become more intertwined and cohesive. Spencers thematic and heavily orchestrated pop has meshed itself seamlessly with Boeckner's more visceral, pared down rock and roll as the album is less "Dan Songs" and "Spencer Songs" and more "Wolf Parade Songs," which I definitely don't think was the case on their amazing debut album Apologies to the Queen Mary. The tempo is more consistently upbeat on Expo 86, with both songwriters pushing the band throughout the album. As a giant fan of Boeckner other work (with Handsome Furs and Atlas Strategic), it isn't a surprise that most of my favorite songs on the record ("Little Golden Age," "Ghost Pressue" and "Pobodys Nerfect") are Boeckner driven affairs. My favorite Krug song on the record is the infectious "What Did My Lover Say," which seems like a more focused take on the epic closing track from their sophomore record At Mount Zoomer. Overall, the band seems to have found a groove with the excellent Expo 86 being the step forward that eluded them with At Mount Zoomer and fans have been expecting since they burst onto the scene a few years back.
Wolf Parade- What Did My Lover Say (It Always Had To Go This Way)