The Scariest Songs Ever (Part I)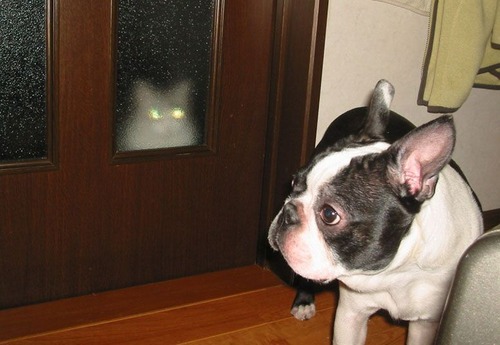 With Halloween fast approaching, "scary" songs are becoming ubiquitous on the radio, in stores, and on TV.  However, while holiday themed songs like "Monster Mash," are fun, they aren't exactly scary.  On the contrary, for this feature we asked seven contributors to name the songs that they actually found frightening to listen to.  Here are their answers. (Tune in for Part II tomorrow)

Matt Linden (Reviler)
It would shameful if The Cramps didn't make it on a list like this. I went with one of the songs of their hits collection, Psychedelic Jungle – which is also one of the greatest Halloween albums ever. "Goo Goo Muck," coupled with its dark and zany lyrical imagery and ghoulish delivery from front man Lux Interior, make it one of the best songs to kick off Halloween.
Pink Floyd – "Brain Damage/Eclipse"
In reality, you could probably put on any song from Dark Side of the Moon and someone will get freaked out. I went with the one that I find truly eerie every time I hear it: "Brain Damage." From the sinister laughs by the "lunatic in the grass" – an obvious reference to ex-Floyd member Syd Barrett– to the reverberating organ drones and the chamber choir, this track is the album's darkest, most auto-biographical moment.
Dead Man's Bones – "Lose Your Soul"
When the Dead Man's Bones debut album dropped last year, boasting that one-half of the group was Ryan Gosling, I was pretty skeptical. Boy, was I wrong. Gosling, along with friend Zach Shields, made an album full of creepy, waltz-y jams accompanied by Flea's Silverlake Conservatory Children's Choir. Here's one of the choice cuts from the album, but the whole thing can set the mood.
"This is the end/ Beautiful friend/ This is the end/ My only friend, the end." Becoming legendary through its iconic use in Francis Ford Coppola's stirring, demented war epic Apocalypse, Now and its evolution from good-bye, breakup song to 12-minute opus, "The End" is one of The Doors darkest, most complex works. The spoken-word section mid-way through that begins, "The killer awoke before dawn…" is especially twisted.
I started snooping around different "drag" and "witch house" bands about a month ago after finding the band Salem. I've come like the over-the-top dark imagery and atmospheric, drone electronics. This is an especially murky one entitled "We Rot" by the hazy drag band White Ring.

Ali Elabbady (Background Noise Crew, Egypto Knuckles)
The cryptic descriptions, the small, building violins, the devilish, deep chant saying "Let me put you on game".  If this track were to play evil, it's resting right there, yep, there, on your left shoulder.  Hearing what he says might scare you, surprise you, who knows? But it will certainly scare you.
Johnny Cash "God's Gonna Cut You Down"
The eerie hand claps, and Johnny's withered voice makes this track a horrific modern day word of warning to sinners in general.  You thought you could escape your fears, and hide your deeds, this serves as a reminder, a cold one if nothing else.
Snoop Doggy Dogg "Murda Was the Case (Remix)"
Snoop's exploration of his then murder conviction came out manifested in this song, where he then turned himself into the murder victim.  Such stark and rich detail about dying, coming back to life, and selling his soul to the devil.  Be a naysayer all you want, but this is one of the rare circumstances where Dr. Dre's remix was leaps and bounds beyond the original.
You want a reason to fear against Uncle Sam and his agenda? This is about as close as you'll come to that fear. Prepare to cringe.  And it plays like patriotism, in the sense that, if you know what El is saying, it should rile that fear up even moreso.
This is probably the closest depiction of what my nightmares feel like.  Horns, violins, and Ali howling hard against the nightmares that keep him minus sleep and waking up in cold sweats and such.

Jon Behm (Reviler)
Though "Nosferatu Man" could be a pick here as well, Spiderland's epic album closer gives me the chills every time I hear it.  Based on Coleridge's "The Rime of the Ancient Mariner," "Good Morning, Captain" relates the eerie tale of a shipwreck survivor/ghost over discordant guitars and Brian McMahan's hoarse whispering.  It is made all the more spooky considering that there are rumors that the stress of recording Spiderland had extreme adverse effects on the band member's psyche's – some of which required psychiatric help. I don't know how much of that is true but I do know that "good Morning, Captain" does in fact sound like something that could put you over the edge.
While Philly's Spooks had a short life, recording only two albums before pretty much disappearing from music, they did record this notable single.  "Things I've seen" recounts the horrors of an inner city lifetime with a ghostly bent. It contains the notable line: "I've tasted, the bitter tragedy of lives wasted / And men who glimpsed the darkness inside, but never faced it." "Things I've Seen" is a song about facing that darkness.  
Nick Cave and the Bad Seeds – Henry Lee (Feat PJ Harvey)
While Cave could probably have his own category in scary songs, for me the Murder Ballads offering "Henry Lee" will always be the spookiest.  It relates the unfortunate story of a young woman who, upon being rebuffed by a man, stabs him repeatedly and dumps him in a well.  Yikes.
Tom Waits – Don't Go Into That Barn
Nobody makes me not want to go into that barn quite like Tom Waits.  While describing all the terrors that are running amok outside, Wait's narrator locks his front door and shoves a chair against it.  The song makes me want to do the same.
The Freestyle Fellowship – "When the Sun Took a Day Off and the Moon Stood Still"
Yeah, some of this song is pretty silly but it does actually contain some serious spookiness too.  Particularly Aceyalone's recounting of old man Dan's head getting torn off my a scarecrow. Sure, it later turns out that MC Self Jupiter takes the actual responsibility for the murder– but his excuse isn't any less frightening than the scarecrow.
*Honorary nominee – Crispen Glover – Clowny Clown Clown
The most fucked up song/video ever.
Kyle "Guante" Tran Myhre (Guante)
Geto Boys: Mind Playin' Tricks on Me
This is gothic hip hop at its best: paranoid, creepy and—importantly—rooted in reality, which is much scarier than vampires and werewolves.
The cool thing about N*E*R*D is that the Neptunes really had nothing to gain from it; they were already millionaire producers.  This side-project is a true labor of love, and this track was the first single they released, a dirty, nasty, evil little song showcasing their edgier side.
This is the song that plays when hipsters die and go to hell.
Just like how sad songs aren't always about interpersonal relationships, scary songs aren't always about the supernatural.  This is one of the Roots' very best songs, and it features an outro that shockingly, graphically depicts the horrors of addiction.
OutKast w/ Cee-lo: Speedballin'
I maintain that this song is the greatest achievement in human history.  It's also terrifying, both in its subject matter and in its disorienting, unpredictable structure.
.