Hilly Eye "Grand Canyon"
by josh keller · Published · Updated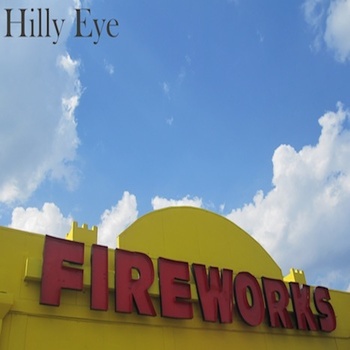 Amy Klein always stands out among the unshaven men in Titus Andronicus when the band play live, but Klein is always just as raucous as her bandmates, even if she couldn't pass for a Civil War reenactment actor like the others could.  Klein recently released a Four song, free EP titled Fireworks on her Bandcamp page.  The sound is less urgent, hyper literature punk like her day job and more grungy, Sleater Kinney-esqe rock and roll.  Check out the song "Grand Canyon" below and head over to her Bandcamp page to stream or download the full album.  Despite being tied up in all of this, Amy also keeps up a highly entertaining blog called Amy Andronicus, which is a must read for fans of both her and of her bands.
     -Josh
Fla. beach closings increased in 2002.
The Orlando Sentinel (Orlando, FL) August 14, 2003 Byline: Tamara Lytle WASHINGTON _ Polluted waters closed beaches along Florida's coastline 1,745 times during 2002, more than twice as often as in the year before, an environmental group reported Wednesday.
Only California _ with 1,100 miles of coast compared with Florida's 1,350 _ had more beach closings last year, totaling 4,553 days when all beaches surveyed in the state are added up.
The nation's two leading beachfront states accounted for more than one-third of all advisories to stay out of the water that the Natural Resources Defense Council calculated in its annual "Testing the Waters" report.
"Too much of the water at too many beaches is still too polluted with sewage and runoff," the NRDC's Nancy Stoner said. "That means millions of American families have their beach vacations ruined when they can't go in the water. Worse yet, officials often don't warn parents when it's unsafe for their children to swim." Poor water quality is usually caused by polluted stormwater runoff or by sewage overflows. Those can cause a variety of illnesses including diarrhea and other stomach troubles.
The growth in Florida's beach water-quality problems was caused by several factors, the experts said.
More-normal rain levels later in 2002, compared with the 2001 drought, meant more polluted runoff making its way to the coastline. Heavy rains wash pollutants into the water and overload sewage systems that discharge into the ocean.
But some of the increase in reported pollution was because of a new state monitoring system.
Water is now tested weekly in Florida instead of every two weeks, and stricter standards were imposed starting in August 2002.
"We've got one of the best beach programs in the country," said Bart Bibler, bureau chief for water programs at the Florida Department of Health. In general, swimmers are "very safe" he said. in our site beaches in florida
Since Florida started its statewide monitoring program in August 2000, 3.2 percent of the tests showed unsafe water, Bibler said.
Pasco County, on the Gulf Coast north of Tampa, had the most days of beach closings in Florida during 2002. Stretches of beach there were shut down for a combined 383 days, the report said.
Among Central Florida's coastal counties, Volusia recorded nine days of beach closings in 2002, up from eight the year before. Brevard County, which had 12 days of closings in 2001, had no closings during 2002, although it does not monitor all beaches.
Daytona Beach Shores in Volusia County is the only Central Florida beach mentioned by name in the report. It was closed three times during 2002 for a total of 12 days.
More than $1 million is spent monitoring beaches in Florida, including a federal grant of $544,000 that is part of a new federal Beach Act that helps health officials around the country.
While beach quality is important to Florida tourism, occasional beach closings are evidence of a testing program that should give some comfort to visitors and residents alike, said Tom Flanigan, spokesman for Visit Florida, the state's tourism promotion arm. "From a public-safety perspective, when there is a problem you want those beaches closed," Flanigan said. "We don't want anyone _ resident or visitor _ coming to any harm." Not every part of the world is as concerned about public health, he said. "Florida consistently gets very high ratings for its beaches," Flanigan said, from independent rating groups and universities looking at everything from the whiteness of the sand to the quality of the surf. Still, "rapid growth puts a strain on everything," he said, including beach quality. beachesinfloridanow.com beaches in florida
But tourists also pay a large share of taxes in Florida, Flanigan said, which contribute to sewer improvements and other projects that over time help reduce beach contamination and closings.
Nationally, beaches were closed for a combined 12,184 days last summer. That was a drop of 9 percent, probably a result of the severe drought along the East Coast during 2002, Stoner said. The figures are for temporary closings of less than seven weeks.
NRDC uses federal environmental reports, its own survey and state data to compile the list. It includes coastal beaches as well as some bay and freshwater beaches.
In Florida, NRDC used data from the 34 counties that have accessible coastal beaches. Bibler said next year's report for Florida likely will be worse because the higher standards and monitoring are now in effect year round, as opposed to just the last five months of 2002. Also, more rain this year has caused more water-quality problems, he said.
NRDC called for stronger national standards, tighter controls on sewage and runoff and pre-emptive advisories against swimming in areas that have trouble after heavy rains.
People can help reduce the danger by using less water, turning to natural fertilizers, fixing septic systems and properly disposing of animal waste, the NRDC's Stoner said.
Stoner criticized Florida's Brevard County for monitoring only some of its beaches. But John Pierce, the county environmental manager, said 10 beaches along the Brevard coast are checked, including popular spots such as the Cocoa Beach Pier and Sebastian Inlet. All the beaches that aren't checked either are next to monitored beaches or are not used for recreational swimming.
"There is no scientific reason, no health reason, not to swim," Pierce said. "Every Monday morning, come rain or shine or cold, my guys are out there sampling the beach water." Norman Duarte and Jerry Jackson of the Sentinel staff contributed to this report.
___ Distributed by Knight Ridder/Tribune Information Services.