Fleet Foxes: Helplessness Blues Review (Three Takes)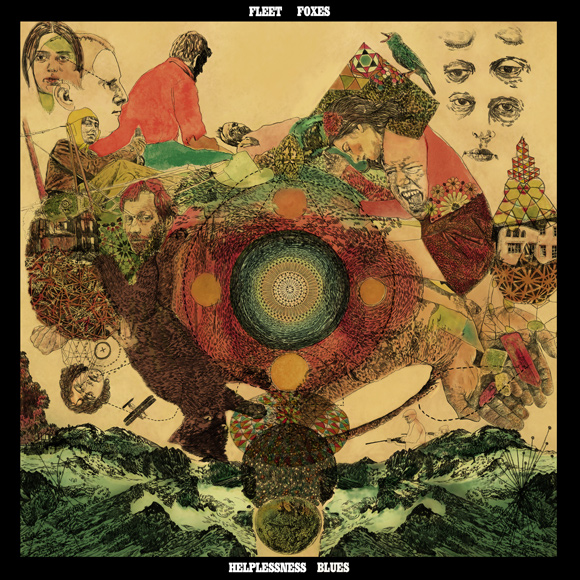 It can be difficult to gain a balanced perspective on an album after reading a single summary of the music. Bias can tilt a review, as can personal taste, history and just about everything else that is unique to the person writing it. So in an effort to offer an expanded perspective in such a medium, here are three reactions, three impressions, Three Takes on Helplessness Blues by Fleet Foxes.
Matt Linden
90/100
They've done it again. Helplessness Blues, the sophomore effort from Seattle folk stalwarts Fleet Foxes, is another collection of songs full of emotionally uplifting folk,  brimming orchestration and lush harmonies. Like their debut, Helplessness Blues is immediately engaging and the Foxes prove once again they are worth your full attention.  While the album doesn't stray far from the baroque folk on the band's self-titled debut, or '60s and '70s influences from folk forefathers like CNSY, it capitalizes and builds on the larger-than-life sonic compositions that made the debut so memorable and enduring. Far from a "sophomore slump," HB surpasses its predecessor on many levels. Where the debut relied more on feeling than lyrical content, the lyrics on HB are more autobiographical from frontman Robin Pecknold's perspective and add an extra level of emotional weight.  And this is seen on the album's opener, "Montezuma," that has Pecknold reflecting on his own life, "So now I am older than my mother and father/ When they had their daughter/ Now what does that say about me?" You can notice these self-reflective lyrical additions throughout the entire record with Pecknold consistently using words like "me," "I," and "we." Overall, Helplessness Blues is a mighty testament to the vocal ability of Pecknold as he seems more confident than ever before. A noticeable difference, though, is the inclusion of a few minimal Pecknold compositions with just him on acoustic guitar. Songs like "Blue Spotted Tail," "The Cascades" and "Someone You'd Admire" are treated more like White Antelope tracks than full-band efforts. Elsewhere, on songs like "Sim Sala Bim," "Battery Kinzie," "Grown Ocean" and "The Shrine/An Argument," they kick out their signature enormous harmonies and standout, crashing percussion from J Tillman. If you were readying for an off-the-wall sonic shift from the Foxes you were solely mistaken. Helplessness Blues is instead another reason why FF are currently the best folk band around. They know where their strengths lie and they stick to what they know. It's a terrific album and it far exceeded my expectations.
Jeremy Hovda
67/100
The Fleet Foxes had a tall order to fill, following up on what is arguably one of the best debut albums of the last 20 years, and unfortunately, with Helplessness Blues, they fall far short of the mark.  Robin Pecknold's vocals are every bit as resplendent as they were the last time around, and the three-part harmonies are still aural gold, but the songs on Helplessness Blues – with the possible exception of the "Battery Kinzie"– have none of the beauty or power of their debut.  The melodies seem forced and flat.  The lyrics are frequently risible.  None of the album coheres. 
Pecknold is so gifted a vocalist that he could draw a crowd by singing names in a phone book. And in fact, that might have been the route to go, because the awkward and overly literal lyrics are as distracting as cell phones in church.  On opener "Monetezuma," Pecknold sings, "So now I am older /  than my mother / and father / when they had their daughter / Now what does that say about me?"  The answer:  probably nothing.  The lyrics on the debut, as well on the Sun Giant EP were more allusive (and elusive) and had the ability to conjure a world out of a few well-turned lines.  Blood on "white snow, red as strawberries in summertime," leaps to mind.  Compare this with the use of snow as a jejune simile in the title track: "I was raised up believing I was somehow unique, like a snowflake distinct among snowflakes unique in each way you can see."  This is the poetry of junior high journals.
The low point on Helplessness Blues (which doesn't actually contain any blues, in case you were wondering) comes on the longest track, "The Shrine / An Argument" (8:07), which feels like three different songs smashed together followed by a horrible wrong-turn filled with screeching saxophones and off-key strings plucking randomly.  While experimentation is welcome, being experimental requires more than tacking two minutes of noise onto the end of a folk medley. 
Altogether, Helplessness Blues is a profound disappointment.  The Fleet Foxes are one of the most talented and promising groups around, and they certainly have more great things in store, but this simply isn't it.
Jon Behm
80/100
Ah a new Fleet Foxes album.  A whole new reason for people who probably have never actually listened to the Fleet Foxes to bitch and moan about how much the Fleet Foxes suck.  It has become pretty uncool in music circles to like the Fleet Foxes anymore (or ever) but one thing does remain: the Fleet Foxes most certainly do not suck.  They are great at what they do, which is emotive, male harmonizing over folky rock instrumentation.  And in Helplessness Blues the band doesn't really fuck with the formula.  The new record is perhaps a tinge darker, with nudges towards a more psychedelic sound (made so by more deftly played guitars as well as ever present reverb).  But overall it sounds quite a bit like their self titled LP, with a whole new set of quiet melodies, acoustic picking, and occasional forays into lurid lyricism.  What I am less enthusiastic about is the nasal tinge Robin Pecknold's vocals occasionally take on tunes like for instance "Montezuma" ("oh maaan oh my oh me").   Also, you don't need to make your songs longer just to get people to take you seriously, or add free form jazz freakouts (I am looking at you "The Shrine / An Argument").  Stick to what you know or change your approach altogether – don't try and tack on some latent experimentalism onto your existing sound.  Otherwise, it's a pretty solid record.  I wouldn't mind the band following that avant garde bug though and going with it whole hog.