Live Review: Dark Dark Dark At The Cedar Cultural Center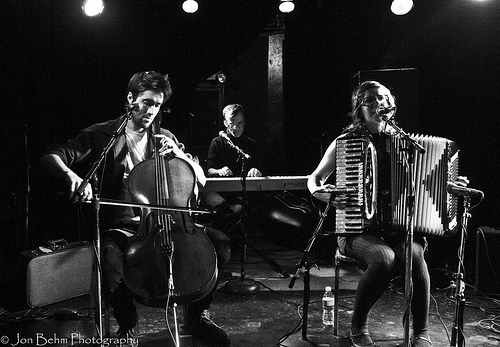 If there were a more perfect band to coax warmth into the hearts of Minneapolis residents on the first breathtakingly cold night in December, Dark Dark Dark would have some real competition. It's hard to believe the Minneapolis residents, turned European touring band as of late got their start a few mere years ago in 2006, finding harmony in their vision for creating something absolutely singular and yet brilliant in their collaboration.
The Cedar in all its understated majesty set the scene for this magical performance on the night of December 8th. Perhaps it was the philanthropic spirit of the venue's cheery volunteers, or the Christmas tree on stage decorated by a sole string of lights that went the extra mile in capturing my full childish wonderment. Either way, the evening marks a capstone in the history of the Cedar's vast and diverse list of performers, featuring a lineup of the Madison-based band, The Weather Duo as an intriguing start, leading up through Brute Heart's avant-rock inspired performance, and absolutely peaking with the thoughtful and composed hour of beauty from our very own city's gem, Dark Dark Dark. The sultry, haunting energy of this performance clings to me as I recall the humble band transitioning to the stage with goose bumps. While I sat awash in a sea of relative strangers, a collective energy of goodwill and happiness emanated from each of us in our knowing anticipation of what was to come.
While Dark Dark Dark's curiosity in contrast and minimalism is demonstrated by hints of jazz, folk, and pop, they bring more than just these traditional genres to the stage. Hovering over the auditorium like the glow of a firefly in the heart of a black summer night, Nona Marie Invie's vocals instantly struck harmony with the band's backing singers during her first line of "Something for Myself." Seemingly velvet, her voice entranced the audience alongside plush undertones of her counterpart performers as chamber folk-inspired instruments ran between each other. Mere slits of soft light penetrated the space between upward-glancing heads. Each listener contributed to the performance in their quiet reflection of the music as they respected the space they were blessed to fill while the band ebbed and flowed.
Not surprisingly, Dark Dark Dark continued this amazement in their lyrics, asking listeners to reflect on the honest and highly emotive drive of their music. They didn't just tell a story, but share definitive and thoughtful visuals to reflect upon. "Great mountain, remember me/I wound around you for miles/I sat down right there and I stretched my bones/And oh, if you knew what it meant to me" These lyrics from "Daydreaming" literally do just that; they make me dream. Nona Marie's voice trails over a luscious clarinet solo, the two of which complement each other with a richness so bold it sits with you awhile, wraps you up, and rocks you like a momma holding her newborn. And while I thought that nothing quite as precious could end the evening as "Robert," featuring more trilling voice echoing in silence over fluttering minimalistic piano keys, the band encored with "Christmas Time Is Here," blessing the audience with a carol for the season of giving.
These artists, whether with their own music or otherwise, commit to a romance with their respective instruments. Perhaps it's this proficiency of said instrumentation that's the most astounding aspect of their show; their ease with performing speaks volumes to their knowledge and experimentation with sound. But what else do we expect from these performers? To anyone familiar with tracks from The Snow Magic (2008), Bright Bright Bright (2010), or their most recent release, Wild Go (2010), we should recognize the kind of musical theater they bring to an album, let alone the stage in their home city. You can tell they've taken joy from testing the limits of their musical abilities, and only prosper more in their flattery. And to think, this is just what we've seen from them in four years.
     — Lindsay Schwartz (Radio K)
Dark Dark Dark:          Site
.