Mark McGuire: Living with Yourself Review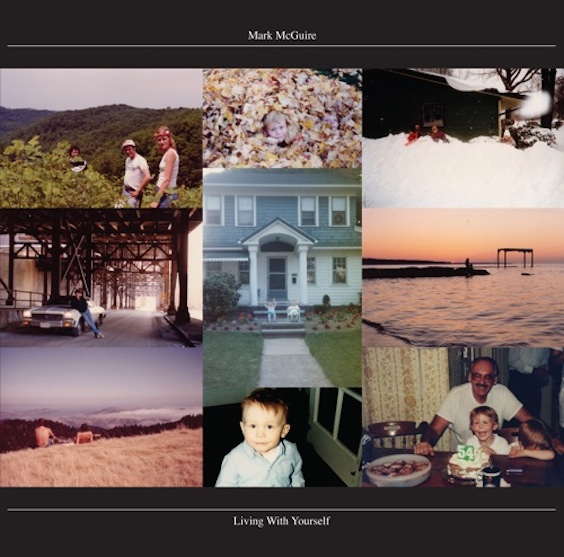 93/100
An unfortunate aside to listening to a ton of new music is the fact that you slowly lose that "holy shit!" feel you get when a new album grabs you by the throat.  Everything is over hyped and overexposed, to the point where certain albums could never possibly live up to the hype and others simply fall through the cracks because you get inundated with such large quantities of music.  Luckily, the vicious cycle was broken recently when I first heard the mesmerizing songs on Living With Yourself from Emeralds guitarist Mark McGuire.
The songs are dreamlike soundscapesthat mix McGuire's swelling instrumental jams to what is essentially found sound recording.  Why I say "essentially" is that they are of tapes that McGuire's father recorded when he was a young boy, so it is less of a random find and more of a journey through McGuire's past relationships with his family.  An especially poignant and powerful song is the track "Brothers (For Matt)," which finds McGuire's father telling him to be "nice to women, but stay away," before the music swells and crashes 10 powerful minutes.  It is one of the most arresting moments in music I have heard in a while, and it only continues throughout the eight song album.  Other standouts include tracks include "Brain Storm (For Erin)" and "The Vast Structure of Recollection" which venture between the layers of guitars and noise and more serene found sound archives of McGuire's past.
The record is one that, on paper, could easily be thought of as pretentious or too "out there" for mass consumption, but that couldn't be farther from the truth.  The songs elicit more emotion and depth than virtually any other record I have heard recently and are amazing feats that keep one head in the cloud while still feeling like genuine piece of art. Making a project that could easily become too "cutesy" or faux dramatic, McGuire walks the line expertly and creates one of the more commanding and powerful records I have heard in a long, long time.
-Josh