Mark McGuire: Get Lost Review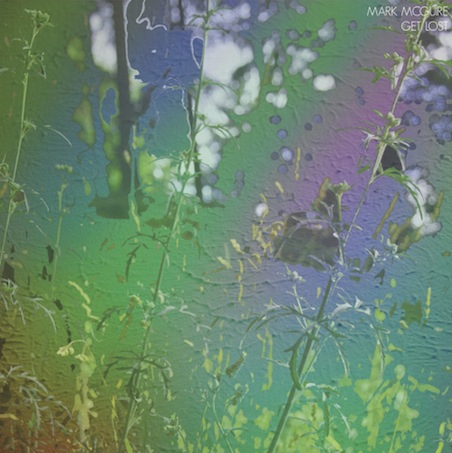 With some artists you want to see tangible change from album to album, while other artists zone in so hard on a certain sound (and do it well) that all you want is for them to string together albums really fleshing out that particular sound. Mark McGuire, to me, easily falls into the latter category. Between his amazing 2010 LP Living with Yourself, his retrospective collecting all of small run releases titled A Young Persons Guide to…. and his work as guitarist with the seminal ambient noise trio Emeralds (in addition to about a million other side projects), McGuire has set up a strong pedigree and has crafted a well-defined sound. The "McGuire" sound centers around the interplay between his interplanetary guitar noodling and ambient, lush synth sounds. His latest release is his solo LP Get Lost, again released on Editions Mego out of Austria, and it gives no indication that his sound or his creative juice is anywhere near getting stale.
One of his recent "side projects" was a collaborative LP with fellow Ohio ambient pop group Trouble Books, which found singing being featured much more predominantly in the recording than much of his older material. This new development comes up again on Get Lost, with McGuire's distant and ethreral vocals adding another layer to the sound on "Alma." On four of the other five tracks that comprise Get Lost, McGuire serves up the template that makes him so good. Smooth, lucid synths with wirey, effect laden guitar leads really firing away on top of them create a string of songs that are easy to lose yourself inside of. The tones are imperceptible but the feel is heavy, with the tracks ebbing and flowing towards nirvana as McGuire adds layer upon layer to each track. While the first five tracks on the LP are short by his previous standards (they range from 3:22 to 5:05), he makes up for the relative brevity with the only track that graces side two of the vinyl, the just under 20 minute mind bender that is "Firefly Constellations." Even more so than the other tracks, "Firefly Constellations" takes a calm and measured approach to its build and really sooths and stretches the listener over a web of sonic tapestry that sucks you and in spits you out before the needle rises back up from the wax.
It is a dangerous proposition to be the Bob Pollard of any genre, but McGuire seems to be staking his claim at making as much ambient music as he can get pressed and out to the public, so far without any drop in the quality of the material. Get Lost is the latest in a string of really amazing, hypnotic records that McGuire has put out and another reason to step back in awe of this young artist creating such commanding and prodigious music. I probably will be back writing about him in about three weeks when his next 7" or collaboration album drops, so get your fill of Get Lost quickly so you can be ready for his next offering.
Grab Get Lost from Editions Mego HERE.
-Josh