Concert Review: Alpha Consumer At The 7th St. Entry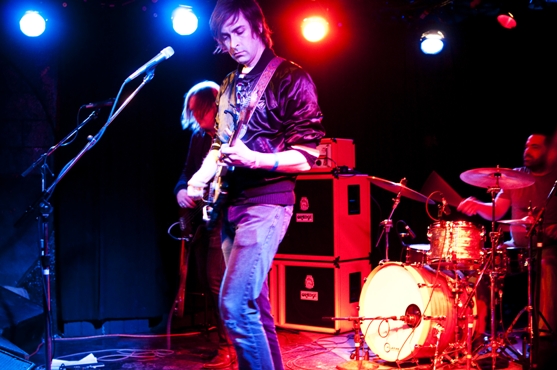 You know you're in for a rockin' show when the headliner doesn't prep the stage until just before midnight. That's just how local glam rockers of Pink Mink wanted things on Saturday at the Entry. Those fiery ladies shot out a fierce set of fuzzy ambiance, teasing show-goers with a sample of the highly anticipated blast of noise to come right after them: Alpha Consumer, celebrating their brand new and incredibly playful release in high sensation, Kick Drugs out of America.
 
Notably a superb coupling for local artists who've cozied up quite well to garage rock, both Pink Mink and Alpha Consumer deserve a gripping handshake for their animated performances. Though, it was Alpha Consumer who rightfully stole the limelight as the trio took stage in front of an audience of friends – one that has awaited a terribly overdue, terribly fun album release, featuring tunes withheld from a public audience as early as 2008.
 
It's not that these guys aren't experienced in performing and releasing music, no sir; each has contributed to some rather distinguished punk and rock groups of the Twin Cities (Happy Apple, Guitar Party, Dosh, and Fat Kid Wednesdays to name a few).  They've just had distractions on their plate in the disguise of intermittent tours with other bands (Andrew Bird as of late) and various other setbacks. Therefore it was thrilling to see such obvious excitement from these guys upon their arrival, the multi-talented Jeremy Ylvisaker introducing the show while instruments were drawn. He chatted to the attentive crowd about the band's difficulties with producing their third release after two plus years of pulling their already written yet somewhat scattered work together, and generously thanked the faithful audience for being patient in waiting out such silliness to rock with them when the time came.
 
And boy, did it come. The guys started off with a lyric-less number, building a non-verbal connection with the audience and laying a raw foundation for the rest of the album. As proven in their performance, the band's latest sound features a more flirtatious and unexpected theme of rawness; a sort of empty noise exists between the riffed chords and drum beats, as if the collective sound were cut out with an exacto knife, slicing and tossing the emptiness surrounding. The energy that came out of this was so astonishing that the rest of those in attendance at the Entry seemed taken aback as well, a fact proven by many a plastered grin of excitement at what might come next. Alpha Consumer's definitive progress over the gap in their releases dually played out in their exaggeratedly humorous yet purposeful songwriting. Bouncing from song to song with an intelligible yet random voice, you have to wonder how serious these guys take themselves. Then again, maybe that's their charm. Alpha Consumer certainly knows how to make noise for those who dig their reclaimed rock 'n roller status. It seems with their new release, however, it is up to us to decipher their intended tone and depth, a question I'll happily explore after such a commemorative and compelling show.
     — Lindsay Schwartz (Radio K)
Alpha Consumer:          Site
.