Sims: Bad Time Zoo Review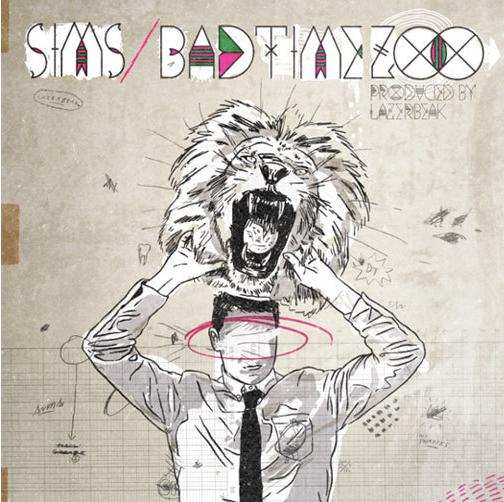 92/100
Six years: That's how long Doomtree devotees have been patiently waiting for the follow up to Lights Out Paris, Sims' 2005 debut album. At the time of its release, it was one of the first Doomtree full lengths – following P.O.S.'s Ipecac Neat and Cecil Otter and Dessa's first False Hopes EPs. And like Ipecac Neat, Lights Out Paris functions as one of the cornerstone releases from the Doomtree collective. It's an album that served as an introductory statement to a new movement and shift in Twin Cities hip hop. Both releases would come to define the Doomtree ethos: abrasive/abstract production, lyrical content berating the emptiness of consumer culture and an overall have fun or fuck you mentality. And after over a dozen self-releases, tours and national recognition, Doomtree has redefined the style and attitude of Twin Cities rap scene. No longer are they snotty kids looking to prove their worth, because it's quite the contrary: they have taken over.
And although Sims, a.k.a. Andrew Sims, hasn't released a proper solo album is nearly six years, he's never been too far gone. Between collaborations on many of crew's solo albums and tracks on the pair of collaborative records, Sims has kept his name relevant and his lyrical chops crisp and pristine. And both his evolution and lyrical strengths shine though on Bad Time Zoo, the triumphant 14-track sophomore effort from one of Doomtree's reigning MCs.
It's an album full of lyrical references and styles that will take longtime fans back to grim and moody tracks on Lights Out Paris, but Sims pushes Bad Time Zoo further and is able to really let loose. While his delivery is direct, he holds back a bit on the political warfare and tends to enjoy himself a bit more on this release – creating the kind of big beat tracks that make the Doomtree crew the most exciting and exuberant groups to see live. Is Sims stressin'? Maybe. But unlike Lights Out, he doesn't let the small stuff sag down the overall swagger on Bad Time Zoo. Does he have shit to get off his chest? Yes. Is he still quick to point out the emptiness of consumer culture? Yes. Will he point out the wrongdoings of corporate heads? Yes.
The latter few, in fact, become the topic the opening track, "Future Shock," a tribal stomp that has Sims rapping about the social disconnect in our current culture, manifesting from our reliance on technology, social media and lack of face-to-face contact. Sims raps,"And I'm dying to know why I feel so disconnected/ Am I dreaming demons? Alienated?/ Or do I just get what I expected?/ They say it's greed that keeps people turning/Feeds the lonely in the beast of burden/East of Eden, but at least we're earning/ The ice is melting and the trees are burning." It's this same bleak outlook of society at large that labeled Sims a "nihilist rapper" on Lights Out Paris and for a short time it could hold true for Bad Time Zoo. But as Sims is quick to point out: "I ain't trying to be deep, I'm just trying to keep my head above water."
But aside from the outright social commentary in "Future Shock," "One Dimensional Man," "The Veldt," and "Radio Opaque," Sims is content on just having a good time for the sake of having it. The easygoing "Love My Girl," the banger "Good Times," and key-laden "Too Much" featuring P.O.S. allow the MCs to feed off of Lazerbeak's waves and layers of sound. Which leads to an essential point of the record: it wouldn't be much without the man behind the boards, Lazerbeak a.k.a. Aaron Mader – his longtime friend and collaborator. As seen on his own solo debut that dropped late last year, Lazerbeak's production work ranges from abrasive and chaotic to slick and jazzy. Lazerbeak's production fits perfectly as a backdrop for Sims' flow and lyrical themes. The two together make one of the most dynamic and succinct pairings in the Doomtree family.
Overall, Bad Time Zoo not only functions as a step forward for Sims, but also a testament to how far him and Doomtree have come in the last decade. It serves as yet another chapter in the Doomtree legacy; a shining example of why this small but gifted group of artists is so influential on independent hip hop. And for that, we thank them. Let's just hope we don't have to wait another six years next time.
-Matt Linden