Secret Cities: "Love Crime"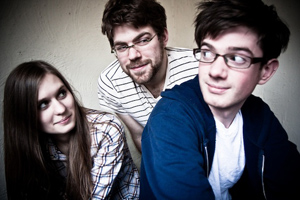 Floating somewhere between throwback surf rock and operatic mega-pop, Secret Cities are like The Beach Boys from a parallel universe. Irreverent harmonies of home-spun croon lend Strange Hearts' lead single "Love Crime" airs of brash-hearted, romantic earnestness. When Charlie Gokey sings "So, please say I'm crazy, and say we'll both stay in love," you can imagine a delusional, love-soaked summer-montage wheeling through his head. The album also features an instrument created by drummer Alexander Abnos—an electric bowtie—which, if anything, conjures up a great mental picture.
     — Will Wlizlo (The Utne Reader)
Strange Hearts is out March 29 on Western Vinyl. Secret Cities are opening for Tennis at the 7th Street on February 19.
Secret Cities:          Site
.