Velvet Davenport: Summer Island Review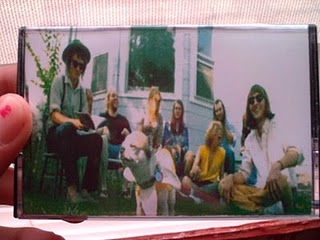 87/100
There is something about the sublime pysch pop of Velvet Davenport that leads one to believe that the process of writing catchy, timeless songs comes pretty easily for Parker Sprout, the centrifugal force for the band. Although it was recorded in the summer of 2009, the group recently released the tape Summer Island on the local SAC label that easily stands with the best, most full sounding pop gems the group has put to tape.
Like all of the tapes that the group has done, the record is short and sweet, with breezes of late 60's pyscedalida washing in and out of the speakers in a short period of time. There are only six tracks on the tape, but there isn't a dud in the bunch. From the gentle, breezy folk of "Turtle Dove" to the Crimson and Clover on even more drugs song "Radiate Moonlight," the record is a slice of 60's garage rock and pop nostalgia that, like all of the best VD material, sounds like it could have been unearthed straight from the source. The group utilizes whimsical organ flourishes on "I'll Take You," and lo-fi, psyched out dream pop (think Apples in Stereo on a mellow acid trip) on the tranquil, spacey "Dear, dear, I'm Here." The highlight of the tape might be the circular 60's garage riff of "Island Sand," which starts with an infectious, 13th Floor Elevator type riff before the band, especially the rich organ sounds, join in for some faded pop perfection.
If I hadn't seen the date when these tracks were recorded (back in 2009) I would use this portion of the review to wax poetic about how Velvet Davenports and their retro sound are continuing to evolve and develop into a full throttle pysch-pop-garage powerhouse. Knowing that these songs are, more or less, tracks that were created before some of his better known Moon Glyph material is a tesitment to the depth of songwriting skills Sprout possesses and are another reason to be amazed at the talent from this group. 
     -Josh
Buy the tape from Soothing Almonds Collective