Sun Araw: "Crete"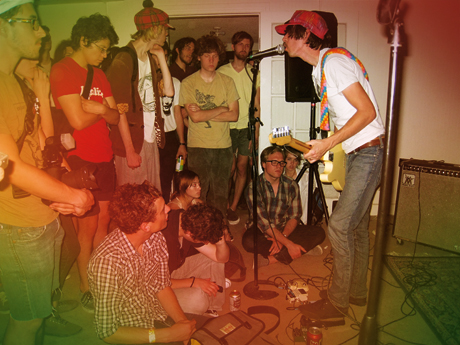 Sun Araw's Cameron Stallone will release his fifth album this summer (Aug. 23rd on Drag City).  Stallone describes it, somewhat unhelpfully as:
Documentation of the slow exit (the triumphal entry): moving the camera back 8 stages along the circumference of the circle to the point where the obverse is reverse, in order to celebrate the building of an edifice and then walk away from it in wisdom, gaining freedom from it.
Normally statements like that are enough to turn me off to an artist completely, but in this case, try to ignore the perceptual philosophy BS and just listen to the music, which is actually pretty good.  The first available single "Crete" is a slow synth, percussion, and psychedelic guitar tune that features Stallone's distorted, trippy vocals over an electronic swirl of noise undercut with thumping bass.  Otherwise known as a "primal splendour, who sends out innumerable rays, not perceptible by the senses, but collectively thinkable," to use another one of the accompanying press release's choice turns of phrase.  You "get it" don't you? If you don't, then why don't you just go back to square city where you belong, poseur.
     — Jon Behm
Sun Araw:          Site
.