Live Review: Secret Cities at the 7th St. Entry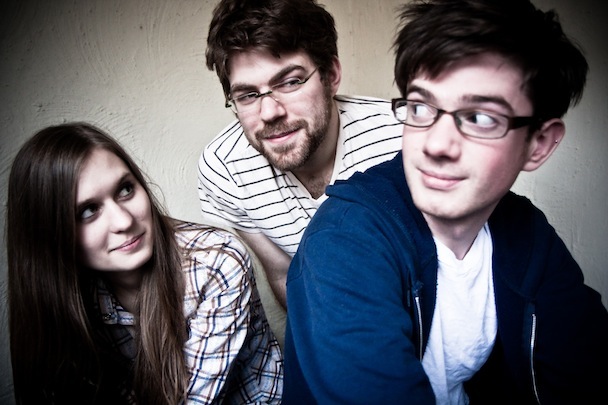 When I reviewed Secret Cities' Strange Hearts back in March, I wrote that the group had a knack for nostalgic AM radio beach rock, that they "touch on vintage pop sub-varieties from across the country, visiting each with even stride and charm." I had my first opportunity to see the group play live last night at the 7th St., a show fronted by local acts Crimes and Gospel Gossip. In short, the show was a pleasure. But instead of sounding like sun-washed radio glitter, Secret Cities' performance reminded me of an endearing act on a Johnny Carson Show rerun.
Crimes opened the night with a straightforward set of southwest-tinged, indie folk-rock. Kind of like Dark Dark Dark, but twangy-er. The playing was laid-back—not lazy, not sloppy—just very mellow. Often singing concurrently, the male and female vocalists bounced between distinct styles—sometimes they came off anthemic, sometimes like a breathy lounge act, sometimes with a tonally golden, dusky croon. Hidden back in the band's genealogy, I can make out a musical ancestry descended from Woody Guthrie, Carly Simon, A Northern Chorus, and Modest Mouse. I'm excited for the band to play out more and become slightly confident with their voices and the various genres they mix.
I won't spend too much time on Gospel Gossip; my assumption is that readers of this blog have seen them, and probably more times than they can count on one hand. The band did what they do, and well at that. Singer Sarah Nienaber sounded especially on last night, pulling off vibes of Mazzy Star, Siouxsie Sioux, and Joan Jett pretty much effortlessly. Gospel Gossip did play some newer material, which strayed from the band's usual wall-of-fuzz psych-rock into something jangly and optimistic. Sweet, even.
"If you can understand us," Secret Cities guitarist Charlie Gokey bantered mid-show, "then there's obviously not enough reverb in the room." There was reverb a-plenty, not to mention infectious melodies, calliope synths, 4 a.m. songbird whistlin', and a good balance of old and new material. Strange Hearts was recorded with three players, but a fourth member joined the group live. Often the auxiliary member mirrored drummer Alex Abnos or Gokey's guitar, giving the live performance some good depth. The album recordings have a delicate prettiness, but they're not quite as lush as the band pulls off in concert. It's the difference between a hedge of roses and a rainforest. Gokey carried a pleasant falsetto, and his lower tones meshed well with Marie Parker's bronzed, guilt-free, anachronistic vocal style. The Secret Cities show was a slice of throwback heaven, and proof that pop can be humble and splendorous at the same time.
— Will Wlizlo (The Utne Reader)