Live Review + Videos: John Maus at 7th Street Entry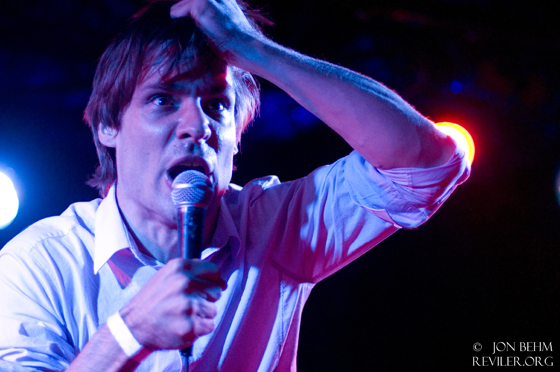 In 2011, when you have an artist you really like and you are seeing them live for the first time, you generally know what to expect. No showing up and being surprised Van Morrison is white or being alarmed that people are spitting at Henry Rollins. To some extent this is disappointing, as youtube basically allows you to experience a concert before a band comes anywhere near your town and strips away any an anticipation for the show. Unless you forget to look. Despite producing one of my favorite albums of 2011 (and having a strong, if under appreciated, back catalog), I realized about 10 seconds in Maus's show Saturday night that I had neglected to see what he was like in concert, and it was quite the surprise.
Playing material both off his new LP We Must Become The Pitiless Censors of Ourselves and cuts from his older albums (highlighted by a poignant and timely "Rights for Gays" from Love is Real), Maus was a tornado of emotional fury. Calling up songs from a programmer and singing through dense layers of effects, Maus let the pent up emotions of his electro pop gems pour through him during the short (less than 30 min) but intense set. He begged for the backing tracks to be louder, louder, louder, and let the sounds pulse through him. Maus seemed ready to explore, face warping and drenched with sweat, with leg muscles contorting and springing loose as he jumped around stage, nearly finding his tall frame going through the low ceiling of the Entry. His fingers were currents of energy, opening up to seemingly let his energy pour out into the crowd like a deranged preacher and coiling into fists in ways that could only express extreme passion, screaming into the mic and cajoling the crowd to keep giving more and more, which they gladly did.
Some in the crowd (myself included) seemed initially taken aback by Maus's aggressive stage presence, but it only took a minute to see how powerful one person can be up on stage. While he skipped playing my two favorite songs from his LP ("Hey Moon" and "Cop Killer"), the set was as stirring as one could realistically hope for. With the amount of energy expended by Maus, I don't know if either he or the crowd would have been able to handle much more than the 30 minutes he gave (although I am sure the audience wouldn't have minded), but I don't think many people left feeling like they didn't get a full on show from the Minnesota native. It doesn't happen often, but John Maus was a true surprise in the live setting (in a good way), as the awestruck crowd at the Entry would easily attest.
-Josh
Check out a full photo set by Jon HERE