Battle Napkin: Battle Napkin Review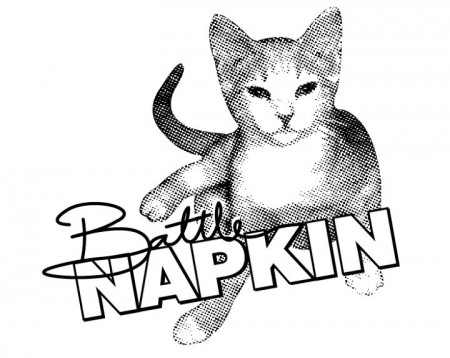 78/100
Local trio Battle Napkin may not have the greatest band name in the world, but in some ways it fits.  Principal guitarist/songwriter Jason Hallen and drummer Ollie Moltaji came up with the name because they were attracted to the juxtaposition of two unlike things.  And judging by the band's self titled debut record, the juxtapositions extend well beyond simple nomenclature.  Battle Napkin is made up of eight tunes that share very little in common with each other besides a taste for the avant garde.  Angular art rock ("What Goes on in My Kittens Heart") rubs up against abrasive heavy metal ("Necrotic Blanket"),  a melancholy folk cover (John Cale's "Hany Panky Nohow") follows bass-heavy, disco rock ("Snakes on a Plane").  From tune to tune singer Hallen doesn't even sound like the same voice. 
What does draw the record together though are several commonalities shared across the various stylistic departures.  One of the most marked features is Melissa _____'s consistently throbbing basslines – which in instrumental "Martian March" are so profoundly resonant that they sound like they are being played on a tuba.  And in addition to singing Hallen leads each tune with dexterously played and uniquely arranged guitar chords.  Lastly Moltaji's time signatures perfectly reflect the oft-changing, nervous energy of the band's sound.   The trio was also assisted by Neil Weir (Old Blackberry Way) in the production, lending them a lean and professional sound.  It's a sound that hopefully only marks the beginning of an obviously talented young band.         
     — Jon Behm
Battle Napkin – Snakes on a Plane
Battle Napkin:          Site
.