Stacian & Unmanned Ship Split CS Review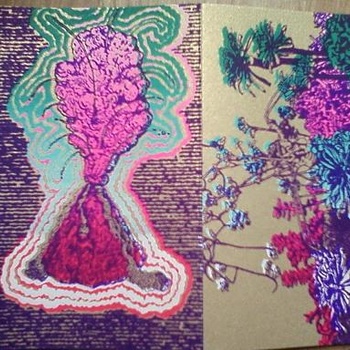 85/100
Staccian (from Milwaukee) and Unmanned Ship (from Chicago) are two psyched out electronic groups from the Midwest that sound and feel like sister city bands that would fit in quite nicely with the current scene, particularly the noisy and innovative groups circling the Moon Glyph, Totally Gross National Product and Soothing Almond Collective crews.    
Moments of their new (to me, it came out in 2010) tape touch on various strains of some of the best sounds our city has to offer.  There are moments of Gay Witch Abortion like drum abuse, with a Skoal Kodiak esqe electronic kraut groove centering many of the tracks.  Stacian seem more inclined to find a melodic, spaced out groove than Unmanned Ship, who weld in a more dissonant electronic sound.  There are moments of snake-charmer like electronic passages and other moments of pure skull-dugery, with synths piercing and stabbing through the speakers like a train pummeling down the tracks.  While it can be a heavy mix, Unmanned Ship lighten up the fare with a funny argument at the end of their side about whether The Phantom Menace is better than the Matrix. Needless to say there are some strong words thrown around and debates about whether someone truly appreciates "art," but it is a funny escape from the otherwise serious, and very impressive, record.
While I like to think all bands within driving distance are "local," I don't think we can honestly claim Stacian or Unmanned Ship as part of the Minneapolis scene.  With their forward looking synth expeditions and their powerful sound displayed on the CS, the bands would (and could) be a great addition to the pysch-noise scene currently percolating in the Twin Cities.  While we can't claim them as "one of us," we can enjoy their confident and commanding tape (available at Yeti Records!) and catch them next time they are here in the cities.  Hear more material from the band at their Bandcamp page (Stacian & Unmanned Ship).
     -Josh