Girls: Father, Son, Holy Ghost Review (ThreeTakes)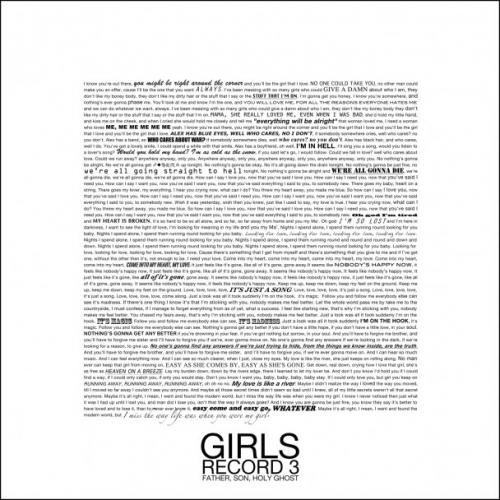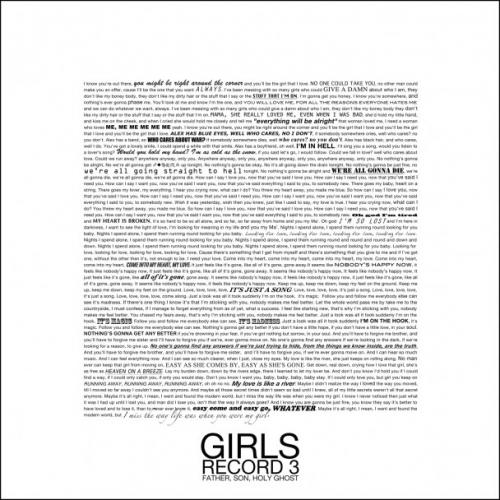 It can be difficult to gain a balanced perspective on an album after reading a single summary of the music. Bias can tilt a review, as can personal taste, history and just about everything else that is unique to the person writing it. So in an effort to offer an expanded perspective in such a medium, here are three reactions, three impressions, Three Takes on Father, Son, Holy Ghost by Girls.

Steve Skavnak (Twitter)
68 /100
"Honey Bunny" and "Alex," the first two tracks off of Girls' second full length, Father, Son, Holy Ghost, pick up exactly where their excellent debut (Album) left off. They're sunny, punchy and energetic, showing that the band, which has earned plenty of divisive reviews in the past, might have some long-term promise. Unfortunately for the listener, though, the band hits their creative precipice early, and the rest of the album is just a slow tumble.
Father, Son, Holy Ghost lacks proper direction and is void of any considerable ambition. Christopher Owens often offers up a wannabe Randy Newman vocal vibe, but sounds more like what your parents hear when you're on the phone with them and they ask if "you're in a tunnel." "Die" seems to have been written solely for Guitar Hero, while "Saying I Love You" sounds like a suburban high school garage band readying themselves for their big gig at prom. "Vomit" properly induces its own name; it's a confused mess for 5 minutes until a curious crescendo brings forth over-the-top Hammond organ and forced Gospel vocal accompaniment. Thankfully later in the album, "Love, Like A River" and "Jamie Marie" bring back both the organ and backing vocals in a more appropriate manner, resulting in a couple of rare bright spots.
Above all else, Girls just seem a little bored, as if they were making the record they thought they should make, not the one they wanted to. Father, Son, Holy Ghost is an unfortunate step backwards for a buzz band on the incline, but many have tackled that obstacle in the past, and let's hope that Girls are the most recent addition.

Jon (Reviler)
54/100
Father, Son, Holy Ghost has cemented my opinion that San Francisco's Girls are some of the most maddeningly inconsistent indie rockers of recent memory.  Their debut Album juxtaposed some really terrific singles with some less than stellar material.  After that, their Broken Dreams Club EP thoroughly wowed me from start to finish.  But just when I thought the band was on an upward tilt, their most recent LP seems to have set them back well behind where they started.  Simply put, Father, Son, Holy Ghost leaves something to be desired.  It's full of very conventional melodies that are accentuated by the band's recent addition of three new members (swelling from 2 to 5).  The additions make for a fuller sound but one that only serves to underline the banality of the simple Beach Boys-influenced garage pop.   These songs sound like they didn't take much time or effort to construct, regardless of what "spiritual" message frontman Christopher Owen has tried to instill in them.  If this sound is religious then consider me an atheist.

Zoe Prinds-Flash (site)
75/100
Though the sound is fuller, Father, Son, Holy Ghost is one of the least focused albums I've heard in a long time. Vocally, the band has matured– featuring a more personal look at Christopher Owens as a lead singer, however each song seems to be going in a totally different direction with nothing to tie them all together. The first two songs, "Alex," and "Die," are blatant imitations of other popular bands sounds'– "Alex," sounds like it's trying for more of an Arcade Fire sound a la  The Suburbs, while I first confused "Die," for the latest Black Mountain single.
Though the lack of structure puts me off, there are a few songs that I really dig. Owens' voice truly is excellent, and it might be the one thing that I consistently enjoy about this band. "Jamie Marie," where Owens voice is most excellent, won me over instantly and "Honey Bunny" is a perfect example of their Beach-Boys-esque poptastic groove, and though it borders on too corny, I still enjoy it.
The rest of the album bounces back and forth between sappy love themed songs, and plugged-in Neil Young riffs that are extremely hit or miss. The album ends with their previously released single, which I enjoy, but feel that they're trying to stuff every different sound featured on the album and the result is a totally directionless and 6-minute song, appropriately titled, "Vomit."
I wish the band could find one of their many successful sounds and produce something cohesive, but until then, I will spin Album endlessly and listen to a few excellent choice songs.