Kurt Vile and Woods: Summer 2011 Tour Split 7″ Review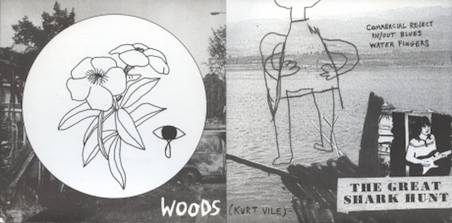 Kurt Vile and Woods are two of the artists that have been at the forefront of the damaged folk scene that has produced many imitators in the last few years, although few, if any, have reached the heights of these two artists. Luckily for fans of the groups, the bands combined for a Summer 2011 tour split, which was released on the Woodsist Record label, which was started by Jeremy Earl of Woods and has featured Kurt Vile releases in the past.
The 7″ is five songs total, with Vile contributing three and Woods adding two. One song "Commercial Reject," is a short (39 seconds) track by Vile that is about as breezy and straightforward as I have heard him. While most bands sound more lo-fi when they are goofing around, Vile apparently cleans up his sound and focuses even more when he produces more casual tracks. His other two tracks are the calm and methodical "IN/OUT Blues," which finds his hazy vocals over a strong finger picking pattern and the more fuzzy "Water Fingers," which is a heavy and claustrophobic instrumental track. Woods also run the gamut on their tracks, with the almost twee acoustic "Cold Blue," which would have fit on the Juno soundtrack colliding with the Crazy Horse noise and guitar theatrics of "Skull."
Tour split 7″'s aren't generally where you are going to be introduced to a band, and this is no exception. If you aren't familiar with Vile or Woods, do yourself a favor and check out their back catalog. Both have put out great albums this year (Smoke Ring for My Halo and Sun and Shade, respectively) and have amazing back catalogs filled with essential jams. That being said, these type of releases also have the chance of catching lighting in a bottle, especially with two groups like these that seem to create beauty out of chaos and spontaneity. Not surprisingly for two artists who really haven't missed a beat in the last 3-4 years, this release is another feather in their cap and another example of each doing what they do best. If you are going to see Kurt Vile live this summer, pick on up at one of his shows.
STREAM: Woods "Skull"
STREAM: Kurt Vile "IN/OUT Blues"
-Josh