Arrica Rose & The …'s: Let Alone Sea Review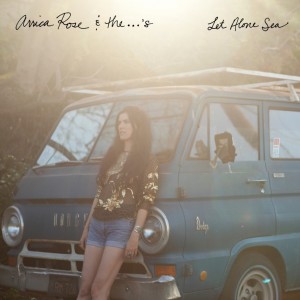 Sometimes it takes a gimmick to get people in. On Arrica Rose's 3rd full-length, Let Alone Sea, it's the closer. What starts out as a slow, hazy cover of the Buggle's "Video Killed The Radio Star" morphs suddenly and seamlessly into Louie Armstrong's "What A Wonderful World" and back. A seemingly clever idea, but it's not what the strengths of this record are about.
Arrica and her backing band The …'s (Dot Dot Dots) do a good job of fleshing things out with smatterings of lap steel, violin, and horns over the course of the record, helping blend things to a place somewhere between folk rock and dream pop. The opener, "Everybody" is a folk rock song that is the record's most straight-ahead tune that mainly opens things up for the wonderfully hazy Mazzy Star-esque dreaminess of "Sail Away". Over the course of the rest of the record, things bounce around, from the spy theme guitar of "We Made It Out Alright" to the New Orleans-styled horns of "Summer's Gonna Burn Me (So Are You)". "When The Clouds Hang This Low" is another highlight as a simple guitar, and vocal ballad builds itself into a giant climactic chorus of voices and violin. The record closes 40 minutes later with the before-mentioned cover song mashup.
Arrica Rose and the band have a lot going for themselves on Let Alone Sea. The band doesn't need any gimmicky cover songs or anything to distinguish themselves; the power of Rose's voice with the band when they're at their hazy best is all they need. The record sometimes strays, but Let Alone Sea is a good stepping stone for a band ready to make a bigger step.
-Adam
Writer / photographer / Reviler co-founder