Live Review: Wild Beast and Twin Sister at the Varsity Theater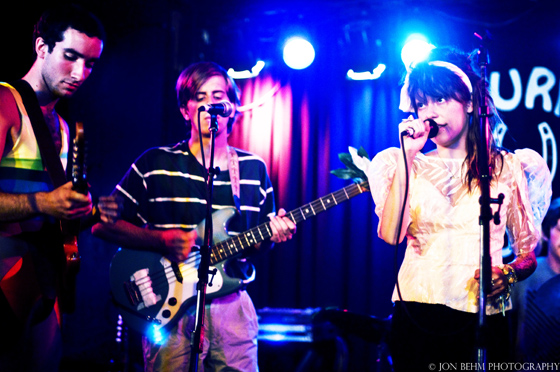 (Photo from Twin Sister at the Turf Club from their previous visit to the Twin Cities)
"You're my favorite!," proclaimed Wild Beasts vocalist Hayden Thorpe midway through their set at The Varsity Theater Tuesday night. The statement was followed by another applause from the wide-eyed audience, and a few grumbles. If you've been to a number of live shows, it's hard to count how many bands say this same sentiment every night. After a few shouts, their tour female keyboardist Katie Harkin chimed in and said, "No, really, I've been on tour ever night and this is the best audience we have played for." So, there you go. Take that U.S., Minneapolis is reigning king of the rock audiences. This, of course, was met with a huge applause.
The UK band didn't play to a sold out crowd at the U of M Tuesday night, but you could sense the room was packed with diehard fans. Having missed their set at this year's Pitchfork festival, I'm happy I got to see the guys this time around. Their set was filled with their signature smooth and multi-textured, soulful jams that still relied heavily on the band's 2009, and best, album Two Dancers. One thing that everyone in attendance took away from last night was that the band plays incredibly tight. The pair of lead vocalists, Thorpe and Tom Fleming, spent time between songs switching between guitar, keys and bass while engaging the crowd at every chance they got. They had plenty to say: how the weather was much better this time around than the dead of mid-February when they played 7th Street, how people from cold climates appreciate soulful music more, the nearly ten-year road as a band that led them to a place like Minnesota and, of course, the obligatory Minnesota music appreciation nods to Prince, Husker Du and Bob Dylan.
As stated before, the band played most of the favorites off of Two Dances, including "All The King's Men" and "Hooting & Howling," and string of other songs from this year's Smother and their earlier work on Limbo, Panto. Soaked in reverb and layers of keys and guitars, the band's sensual soul jams translated immensely in the small room. Though Thorpe and Fleming are front and center, guitarist Ben Little and drummer Chris Talbot serve as the crucial backbone of the band, delivering swaths of reverbed guitar and the driving drum force to their rhythmic sound. Talbot, especially, seems to hold everything together when the band starts churning out the layers upon layers of airy dissonance. Without him, much of the feel would be lost altogether. In the right setting, the band completely controls the attention of anyone the the audience. It was a special set.
Opening for Wild Beats was Brooklyn dream pop up-and-comers Twin Sister, who just recently released their terrific debut full length album In Heaven. The band's style of dream pop exist in a a state of distant and unfathomable gloom. Even the sunnier, thumping tracks have overtones of dread and melancholy. Both Potishead and even Jefferson Airplane could be good jumping off points for the band's sound. And as a fairly young band that's pretty admirable, I suppose. Although lead singer Andrea Estella plays up the semi-shy front-woman in her stage presence, her voice is anything but. It's strong and commanding and entrancing. The band whipped through a tight set, their last one with their UK tourmates, that consisted of songs from both In Heaven and their Color Your Life EP.
     -Matt Linden