We Went There: Odd Future Wolf Gang Kill Them All at First Avenue 10/12/2011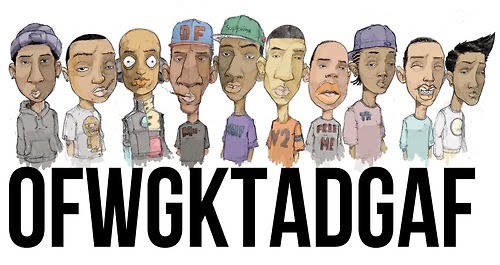 Love 'em or hate 'em – whatever you think about the young LA hip-hop crew, one this is unanimous: in 2011 there is no other group of musicians that are more divisive. And it is, after all, for good and fair reasons. Their lyrics are foul, degrading, misogynistic, homophobic and sexually explicit. They rap about prolific drug use. They rap about raping and killing women. They rap about killing cops. They even rap about killing themselves. (But really, they aren't reinventing any rap wheel. These lyrics have been prevalent for decades. Why they seem to be different than other rappers is a mystery to me). Many argue that their sole purpose in underground music only centers around those who are "in on the joke" – i.e. those in and involved with the collective itself. They are seen as uncreative to some and pioneers to others – many who believe the latter are some of the biggest names in hip-hop: Sean Combs, Jay-Z, Kanye West, Pusha T, Method Man and Snoop Dogg to name a few.
With their own brand of slacker/skater lingo and D.I.Y. online presence and free releases, they have amassed many, many hardcore followers in a short amount of time. But even through their sudden rise in stardom, and constant backing from a loyal and obsessive fanbase, they remain insular. Everyone is still cast as an outsider aside from the collective itself. It's an "us vs. them" mentality and no one but those in Odd Future can, or ever will, truly "get it." But this is also their selling point for many fans: Odd Future Wolf Gang Kill Them All simply, and unapologetically, do not give a fuck.
And that was pretty much the attitude they brought to the rowdy, young and rabid sold out crowd at First Aveune last night. Whatever you may think about their over-the-top lyrics, childish antics and "fuck-all" mentality, seeing Odd Future live is wildly entertaining. It's absurd and hilarious, but at the same time you feel like you're seeing something transcendent. On their first headlining tour, it feels like a point in time, an apex for this fast-rising group. It's feels like it's in slow motion. Watching this group of kids that aren't even old enough to drink, I was struck not between love and hate, but more of admiration.
From the moment they hit the stage they never let up their high level of intensity. All the main members of the crew, aside from the still somewhat mysteriously absent Earl Sweatshirt, were present: Tyler, The Creator, Hodgy Beats, Left Brain, Jasper, Domo Genesis, Mike G and DJ Syd tha Kid. The all ages show brought together one of the more eclectic gatherings I've seen at First Ave in some time. Mallrats, hoards of high school kids, drunken college freshman, indie kids, hip-hoppers and scenesters. It was a lot like people watching at the State Fair. Running around and stage-diving like a deranged Wu-Tang Clan, a comparison that goes without saying, the group blazed through tracks from this year's Goblin and Mellowhype's re-release album as well as a bunch of tracks feature off each member's solo efforts and their collaborative mixtapes.
The floor literally exploded when fan favorites like Tyler's "Yonkers" and "French" and Mellowhype's "64" were played, but it was also nice to see the different personalities come through apart from the biggest names in OF. I was pleasantly surprised by the slower moods of both Mike G and Domo, who both hold their own as great MCs. Aside from those present, the group also mixed in a few tracks that featured their still absent member Earl Sweatshirt. The parts were played with the crowd filling in the gaps. It's unfortunate for them that young Earl is not able to bask in the groups popularity because he is actually the dominating rapper in the whole collective.
Said and done this was one of the most memorable shows I've seen in the Mainroom. If not just for the sheer amount of energy and enthusiasm each member poured into the performance, but for the history that we may or may not have witnessed. It's hard to say right now whether or not Odd Future will just as quickly become yesterday's news as they have become superstars overnight. Judging by the crazed fanbase, I'd say that these guys aren't going anywhere soon. If you can beat 'em, oh well. And if you don't like it, well, fuck you, too.
-Matt Linden