Painted Saints: "No Match For Greater Minds" Review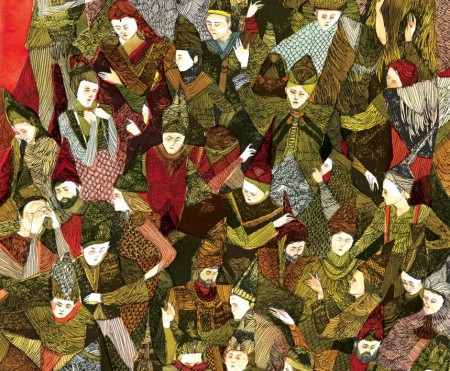 Local (by way of Denver) songwriter Paul Fonfara has been performing with a diverse cast of musicians under the name Painted Saints for years.  While Fonfara initially seemed drawn to the same kinds of folky, Eastern-European influenced melodies of his former band, DeVotchKa, he has since branched out into a wider ranging sound that incorporates elements of rock, jazz, and the blues. Painted Saints' newest record, No Match For Greater Minds, showcases Fonfara's newfound expansive sound and also capitalizes on the talents of several of the local scene's similarly minded local artists, such as Nona marie Invie (Dark Dark Dark) Channy Casselle (Roma Di Luna) as well as members of the Poor Nobodies and Breaksea Caravel.
Whereas much of Painted Saints earlier output was very heavy on both the accordion and clarinet, No Match relies more heavily on electric guitars and swirling string accompaniments.  Fonfara generally sings over the dense orchestrations in a reedy, high baritone that's a bit reminiscent of crooners like Scott Walker, giving some of the tunes (notably "I am No match for Greater Minds") the feel of a Broadway musical score.  In "Sunlight through Eyelids" Fonfara's vocals are joined by Channy Casselle, who brings a beautifully ghostly mood to the song's gothic country melancholy.  "Water Street Waltz" is also accompanied by another female vocalist who isn't named (but sounds like Invie). Other standouts include the spare, bluesy meditation "Contender" (written from the perspective of a boxer in the milliseconds just after he's knocked off his feet) and "Whimsy Shutter Shine," which combines blues guitar with exotic, Eastern-sounding string psychedelia.
There is a lot going on throughout the course of No Match For Greater Minds.  While Fonfara and company dabble in all sorts of differing musical genres, the tie that binds them together is the dexterity with which each strand is incorporated.  Occasionally the sound does still get a bit too crowded, and in that case the record's density actually works against it.  For the most part though what Fonfara has orchestrated here works.  No Match is a very listenable piece of music and is a great evolutionary step for Painted Saints.
— Jon Behm
The record release show for No Match for Greater Minds will be on November 19th at the Cedar Cultural Center.

Painted Saints:          Site
.