Oxford American's Mississippi Spotlight
Oxford American is the pinnacle of cultural magazine writing—especially in the under-covered South. Each year OA publishes a music issue that spotlights one state, and this year it's Mississippi, the magazine's home state.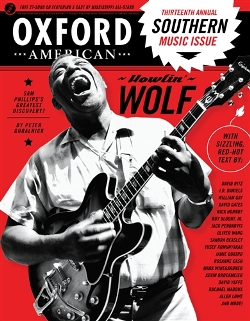 "We are in awe of the cultural richness of Mississippi," writes editor Marc Smirnoff, "and while we have the sand to represent Mississippi music on paper (mag), on metal (CD), and in outer space (online), we at least know we must respect and somehow pay homage to the music and literary gods whose personal affection for the Magnolia State seems beyond doubt."
Even compared to past music issues, OA really outdid itself. Some of the articles include a profile of braggadocious soul man Syl Johnson, who fought for his intellectual rights against countless hip hop DJs and producers; a sorta-oral history of roots-rock band The Hilltops; Jim Johnson's stuffed pork chop recipe; the x-rated origins of blues lyrics; and some musings by Roseanne Cash. Although many of the articles will go online eventually, it's probably worth grabbing at the newsstand when it goes on sale on December 1: The magazine will come packaged with a 27-track sampler of Mississippi music.
—Will Wlizlo