Reviler Best of 2011: Local Albums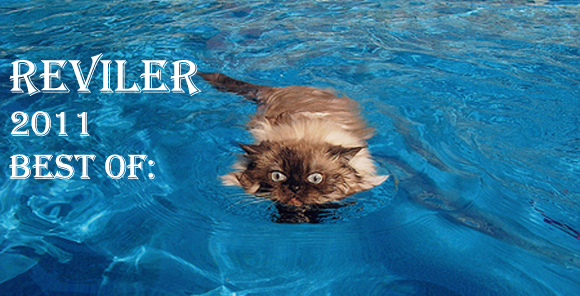 Snow is falling, people are spending money on crap they don't need and you are starting to dread all of the time you will be spending with your in laws in the next couple weeks. Cheer up. It is also that wonderful time of year where music sites like yours truly pontificate even more than usual, although in a more orderly and concise manner than we normally do (numbered lists!). For the next week we will be presenting you with a plethora of lists covering our favorite (and least favorite) things from calender year 2011. Today we look at our favorite albums from our always amazing local scene. Tomorrow we will take a look at our favorite songs from 2011.
Jon Jon Scott (Sound Verite/Black Corners)
Greg Grease – The Giving Tree
The city's quiet secret weapon, the multi-talented Greg Grease not only writes throwback rhythms over warm J Dilla-inspired beats, he makes the beats, plays drums, directs video and has a line of fine garments & accessories. Check out The Giving Tree's highlights "Love It Or Leave It Alone", "Dreams", "Got Till its Gone" , "Flying Kites" and "Your Welcome". (download)
Villa Rosa – Blue Diamond Island
Muja Messiah and Maria Isa join forces, sample Nina Simone on "Blindfolded", shout out Fela Kuti on "Watch Out", they even had production of Doc McKinney (Drake/The Weeknd/Muja Messiah) on "Uma Thurman". NPR's All Things Considered called them "Something rare in hip-hop".
Manifest – Immigrant Chronicles: Coming To America
Ghana's favorite son in Minneapolis spreads his wings with a thorough effort . With hits like "Fiyah", "Suffer", "Motion Picture", "Asa" and "Heaven" Manifest should be getting even more love. The man recently went on tour with Damon Albarn (Gorillaz/Blur), Tony Allen ( Fela Kuti) and Flea of the Red Hot Chili Peppers, expect big things from chale.
Buffalo Moon – Selva Surreal
Lead by Ecuadorian singer Karen Freire and her mates from South Dakota take a trippy indie ride into the bomba nightlife with gorgeous melodies via Stereolab and echoes of Astrud Giberto. Released on local powerhouse indie Moon Glyph.
Doomtree's Sims grabs heavy production from Lazerbeak, a mask and off to the races.
This group seemed to come from nowhere with a unique take on Cuban son. With a fascinating lead vocalist Adriana Rimpel, and a grant from American composers, the future looks bright.
Andrew Broder, Dosh and friends.
The city's first official entry into "chill-wave", Pitchfork notices.
Illuminous 3 – Montessori
Spirited south siders' revisit their elementary school, wag out over production by Mike Swoop.
A nice look back at the Riot Grrrl movement. Chrissy Hunt and Arzu Gokcen make like their record collection and visit Babes In Toyland, Sleater-Kinney and early Hole, take notice.
Marijuana Deathsquads-Crazy Master
Experimental jet set squad led by Gayngs wizard Ryan Olson, aided by P.O.S., 2 drummers and chaos.

Jon
1 Brute Heart – Lonely Hunter
2 Blind Shake  – Seriousness
3 Doomtree – No Kings
4 Condominium – Warm Home
5 Sims – Bad Time Zoo
6 Food Pyramid – III/Omni
7 Claps – Wreck
8 Gay Beast – To Smithereens
9 Buffalo Moon – Selva Surreal
10 M.anifest – Immigrant Chronicles
Runner Up: Marijuana Deathsquads' Crazy Master. Also, Lighted's "Queendom" would probably rank highly but I have only heard it live
Ali Elabbady (Background Noise Crew, Egypto Knuckles)
1.  Sims "Bad Time Zoo"
2.  M.anifest "Immigrant Chronicles"
3.  Paper Tiger "Made Like Us"
4.  925ve "The Big Payback"
5.  The Tribe & Big Cats! "FTMS (Forward Thinkers Movers Shakers)"
6.  Villa Rosa "Blue Diamond Island"
7.  No Bird Sing "Theft of the Commons"
8.  Atmosphere "The Family Sign"
9.  Big Quarters "Party Like A Young Commie"
10.  Guante & Claire Taubenhaus "A Loud Heart EP"

Josh
Lighted- Kingdom
Skoal Kodiak- Kryptonym Bodliak
Marijuana Deathsquads- Crazy Master
M.anifest- Immigrant Chronicale II: Coming to America
The Cloak Ox- Prisen
Buffalo Moon- Selva Sureal
Brute Heart- Lonely Hunter
Velvet Davenport- Summer Island CS
Food Pyramid- III & New Omni-Directional Healing Techniques
The Blind Shake- Seriousness
–No quite local but put out by local label Moon Glyph and really good— Deep Earth- House of Mighty & Dead Luke- Meanwhile….In the Midwest
(Honorable Mention- No Bird Sing- Theft of the Commons, Sims- Bad Time Zoo, Doomtree- No Kings, Daughters of the Sun- Ghost with Chains)

Adam
1. False – s/t
2. Gay Beast – To Smithereens
3. Dreamless – All This Sorrow, All These Knives (stream)
4. Total Fucking Blood – Real Demons (download)
5. The Bombay Sweets – s/t (review)
6. Teenage Strangler – Dark Sun
7. Cloak Ox – Prisen
8. Shane Vader – Grapes
9. Sleeping In The Aviary – You And Me, Ghost
10. Brute Heart- Lonely Hunter