Tender Meat: "Ripper's World" Review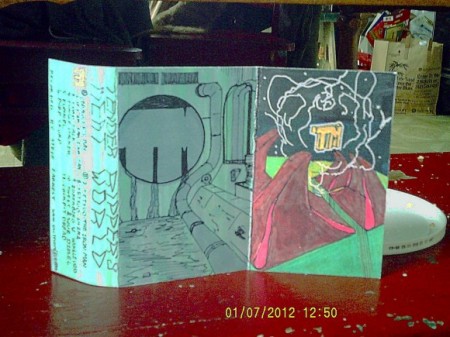 Minneapolis duo Tender Meat specializes in gritty, pulse-pounding electronica that combines a sort of free-jazz mentality with a Nintendo-on-acid aesthetic.  Until recently their only widely available full length recording was a live album recorded at the 2010 Heliotrope Festival entitled Ritz on the Fritz.  Ritz managed to capture the wild, loose energy of Tender Meat's show while maintaining a degree of audio fidelity that is rare in low-budget live recordings.  And considering how good the band is live, when I heard that their newest effort, a record entitled Ripper's World, would be a studio recording I approached it with some degree of trepidation.
Thankfully though, Tender Meat sounds every bit as crazy in the studio as they ever did in a live setting.  Ripper's World flows with kind of cohesion that almost sounds as if the whole thing was recorded in a single take.  And if that is the case, it must have been one furiously manic recording.  Despite actual track breaks (something Ritz lacked) Ripper's World manages to never lose its momentum.
The tape starts with the crackly-static bomb "Brawler's Bay," and goes on to fill the following forty minutes with a sound that is futuristically weird while maintaining a grimy low-tech façade.  The space of that time is crammed with a brilliant kaleidoscope of electronic exotica: field recordings, steam hisses, bizarre sampling, and 8-bit grooves, not to mention a whole lot more.   Standout track "Cockpit Dread" contains a furious collection of rhythms – some electronic, some real drums, that combine for a sound that could melt paint off the walls.  The follow up "Funnel" is no slouch either – it contains an amazing array of electronic noise, all composed around an 8-bit beat that sounds as if it was lifted from Konami's Ninja Turtles Arcade game (I was actually convinced it was but a lengthy search seems to have proved me wrong).
Another major difference between the new material and Ritz is that in the studio recording, Tender Meat does occasionally give the listener a little space to breathe.   "If I am, I am I am" slows the album's pace for a gloomy, dread-filled minute before "Jungle Stalker" ratchets the tension back up with a minimalist beat that utilizes pastoral field recordings to put the "jungle" into the "stalk." "Tetsuo Shima" (named for the Akira anime character) also pulses with an atmospheric groove that is less in-your-face than the sound I have previously come to associate with the band.  Ripper's World also never shies away from the bizarre – most notably in final track "Zuckerberg Vs. Winklevoss" which contains samples drawn from the infamous Facebook trial case.
While Ritz made me admire Tender Meat for their ability to take the listener on a relentless thrill-ride, the wider range of Ripper's World makes for a much more dynamic listen.  The live format is excellent for capturing the excitement of non-stop bangers, however the studio has freed Tender Meat to explore a much more interesting spectrum of sounds and textures.  Ripper's World really shows that not only are Tender Meat masters of the electronic sledgehammer, they are also artists who are capable of fine, nuanced details.
— Jon Behm
You can stream and pick up a copy of Ripper's World through the Soothing Almonds Collective
.