Lindstrøm: Six Cups of Rebel Review (Three Takes)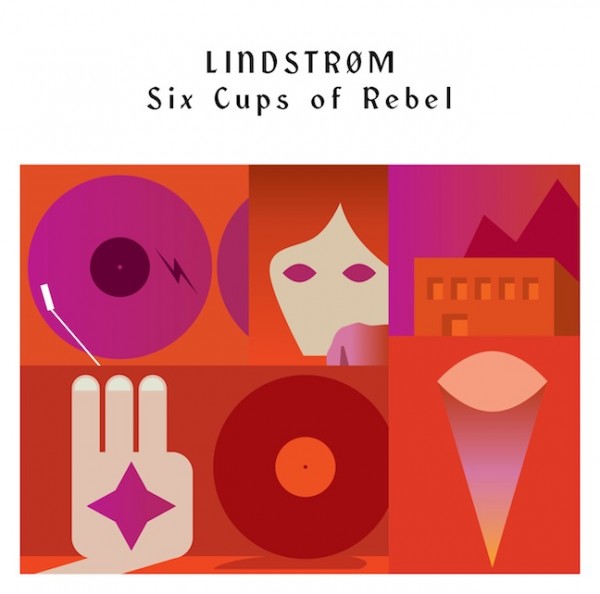 It can be difficult to gain a balanced perspective on an album after reading a single summary of the music. Bias can tilt a review, as can personal taste, history and just about everything else that is unique to the person writing it. So in an effort to offer an expanded perspective in such a medium, here are three reactions, three impressions, three Takes on Six Cups of Rebel by Lindstrøm.

Will (Reviler, @willwlizlo)
14.286/100
If you divide 100 by seven, you get 14.286. If you divide Lindstrøm's latest album, Six Cups of Rebel, by seven, you get one solid dance song. "Call Me Anytime"—a nine-minute track nestled in the middle of six other hyper-repetitive, unsexy, itchingly fast house cuts—is consistently surprising considering the genre in which the Norwegian producer has decided to work. Synths evoking wonky horns, strident piano, and exotic flutes lend "Call Me Anytime" a Roxy Music-esque freakout vibe that morphs into a blast-beat-punctured jazz track—ultimately ending on a tropicalia chill. Think of an Orbital tune, if Orbital reinterpreted the soundtrack to Castlevania.
The infectious grooves and dynamic flourishes that make "Call Me Anytime" so good are lacking from the rest of Six Cups of Rebel. The other tracks zoom past like weird, pseudo-psychedelic trains. They're loud and loaded with just enough weird vocal samples to make a fan of The Books wonder why they've never listened to dance music. Opener "No Release" uses organ tones in a way that will make you want to run out of church on Sunday. "De Javu" revels in low-end grooves that embarrassingly rumble like your stomach after huevos rancheros. Channeling the Blue Man Group (or something), "Magik" features the swip-swips samples of someone whipping a piece of plastic through the air. I could go on, but I think it's kind of pointless. If you want to hear some funky space disco that uses repetition, retro synth, and brassy atmospherics very well, look no further than Lindstrøm's partner in crime: Prins Thomas.

Jon (Reviler)
78/100
I admire electronic composer Lindstrøm's new album more than I "like" it. Through seven tracks (why not call it Seven Cups?), Lindstrøm is adventurously creates unconventional song structures. Tunes like "Magick" and "Hina" are free-flowing and weird techno-journeys that warp a normally structured genre into organic colors and shapes. Call it electronic jazz if you will—Lindstrøm frees himself from the tyranny of a cohesive beat and journeys down the rabbit hole heedlessly. On one hand, it makes for an intriguing, even amazing, listen. On the other, Lindstrøm's abandonment of conventional format makes his sound lacks accessibility. It's technically dazzling music that (at least for me anyway) doesn't hold much purely aesthetic appeal. Do I enjoy listening to it? Sure. But unless I'm in the mood to delve wholly into the album in my sensory deprivation chamber, I'll probably choose something else.

Josh (Reviler)
I've patiently waited for a follow-up from Norwegian producer Lindstrøm comparable to his excellent 2008 LP Where You Go I Go Too, yet I'm consistently disappointed. His work since hasn't been bad, but it hasn't lived up to the euphoric, head-in-the-clouds electronic revelry that burst through the speakers on Where You Go. After some good, but not great, collaborations with fellow producer Prins Thomas and sultry voiced chanteuse Christabelle, Lindstrøm returns with a second full-lengt, Six Cups of Rebel. Unfortunately, like the collaborative follow-ups, this record spends more time wobbling around the edges than reaching dance floor nirvana. The material ranges from the cheesy stomper "Quiet Place to Live" to the church organ tapestry of "No Release," which lives up to its name by never giving the listener any semblance of resolution. Lindstrøm comes closest to his previous magic on the frantic, everything-and-the-kitchen-sink "De Javu" and the wandering, mystical space funk of "Call Me Anytime"—a track that leaves no stone unturned in its quest to mine every sound known to man.
It's feels like Lindstrøm either isn't capable of or doesn't want to replicate the rapturous space disco (as it is often called) of Where You Go I Go To.  I suppose I shouldn't go into each release expecting Lindstrøm to reinvent his own wheel, but I also can't mask my disappointment when he doesn't even come close.